Good for the sole: Professor Knights' sneaker collection sparked by New York City culture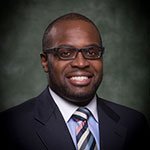 Alexander Knights, a management professor, advisor and leadership researcher in the Gabelli School of Business at Roger Williams University, has a special love for sneakers and sneaker culture. He currently lives in Rhode Island, but he was born in Brooklyn, New York, which is considered a capital of sneaker culture and sneakers in general.
Knights is a veteran of sneaker culture, as he began collecting shoes around 2003. At that time, he started earning disposable income and really became interested in shoes, with fashion in New York City serving as a big inspiration.
"I'd be on the train and see people dressing in all different colors and patterns. It's not uncommon to see people in secondhand clothes that look really good," Knights said.
Knights loves sneakers for what they are and wears every pair out of the 80 pairs he owns. His most sentimental pair is the Jordan 11 Cherry Lows as they were the first pair he bought with his own money back in junior high. However, his favorite pair is not one that many sneakerheads would expect: the Jordan 1 New Loves. The Jordan 1 New Loves are one of few Jordan 1's to feature a black and yellow colorway. These shoes currently sell for around $400, which may seem like a lot of money for sneakers, but in the sneaker world isn't that much. Knights said the most he has ever paid for a pair is $275. He doesn't just love a sneaker for its price tag, but rather for how it looks.
"What I don't like now is, one, there are far too many people exploiting the essence of the culture. For a lot of people, it's artwork. With the high resale prices and things like bots, I'm over it."
While the Jordan 1 New Love is his favorite shoe of all time, Knights said that his grail shoe, otherwise known as the one rare pair of shoes someone wants more than any other pair, is either the Stussy X Nike SB Dunks or the original Nike Pigeon SB Dunks.
When asked about his favorite designers in sneaker culture, Knights mentioned Sean Witherspoon and Travis Scott. However, he said his favorite is the brand Sacai and the products they created with Nike.
Knights also talked about how he never likes to pay resale prices for shoes and thinks that some of the shoe prices today are outrageous. He said he has always paid retail price for all of the shoes he owns, including shoes such as the Jordan 1 Shattered Backboard and the Air Max 97 Forest Green from the Powerwall series. One of the ways he used to do this was by camping out the night before sneaker releases. He reminisced on stories from camping out at Niketown in NYC.
"We camped out for the Fantastic Four Pack. Me and my brother got all of them. I got my Spizikes signed by Spike Lee from camping out," Knights said.
"I'm into it like people who like books," Knights said. "There's always new shoes."