Nothing but Net
Men's Basketball secures clean victory in first game
When it came down to the last few minutes of the first half, men's basketball rallied together to snatch the lead from Springfield College in their game Friday, Nov. 12.
The Hawks went into the locker room at the half with a seven-point cushion, leading Springfield 42-35.
Head coach Mike Tully said RWU outhustled their opponents and maintained their lead, securing the victory over Springfield, especially in the second half of the game.
As the crowd watched the team's confidence grow on the court, they were given a taste of what they should expect to see from this team throughout the rest of the season.
Sophomore guard, Mac Annus, scored the most points for RWU with a total of 24 points. The game was his college basketball debut.
"I certainly had fun out there, the crowd was awesome and it was definitely cool to be able to play my first college game in an environment like that on our home court," Annus said.
He felt that the versatility of the offense and solidity of the defense played a huge role in their victory against Springfield.
"We were still working out the nerves at the beginning of the game, but once we caught a rhythm, there was no looking back," said Annus. "Basketball is a game of runs, and we were able to limit any runs Springfield went on which allowed us to pull away and hold a comfortable lead for the majority of the second half which turned into a win for us."
After two long years without competitive play, Tully said there was a positive climate amongst the team going into the game.
"They were excited, you know, really upbeat and energetic," Tully said. "Just happy they're practicing every day with competition in front of them."
The team stepped onto the court with only one returner, due to injuries leading up to the first game. The leadership on the team was effective in preparing the players for the season that lies ahead.
"We have been practicing as a team for a while now and I was more than ready to get out there and compete in a meaningful game with my teammates," said Annus. "It was nice to get the first game under our belts, but we have a lot ahead of us."
The team is dedicated to working hard each day towards their goals for this season.
The Hawks hit the court Wednesday, Nov. 17, at home at 6 p.m. in a game against Connecticut College.
Leave a Comment
About the Contributor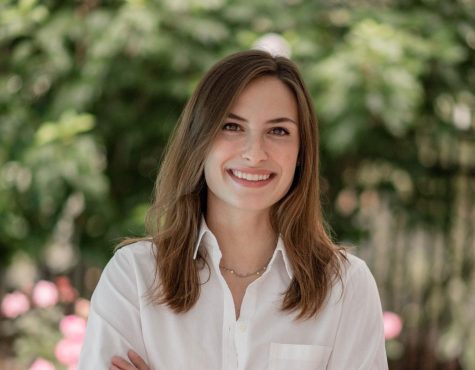 Kristen Dansereau, Sports Editor



Kristen Dansereau had a passion for journalism since the beginning of high school, and her passion for sports began even earlier than that. She loves...