"Legally Blonde" is one of the most iconic law movies from the early 2000's and there is an on campus opportunity to channel your inner Elle Woods in the RWU Mock Trial Club.
Junior Cassandra Pay is one of the Co-Presidents, specifically the President of Internal Relations.
Mock Trial is a competitive team that tries cases written by the American Mock Trial Association every year. Each team has a prosecution and a defense team, and they spend the year prepping the case, and then will take their cases to competitions and face other schools to see who wins, said Pay.
Much of the case preparation is written work from writing out objections, opening and closing remarks, pretrial matters, among many other trial components.
Story continues below advertisement
Each person in a Mock Trial has a role, whether it be witness or attorney. When being a witness, Pay said that the members can really make the character their own and decide how they would act on the stand. Then, she said as an attorney, they would be doing all of the classic attorney work such as opening and closing statements, and witness examinations.
Pay was a witness last year and is now an attorney this year.
Pay's team's fictional case this year is about a "Halloween Helicopter Heist" where valuable objects were stolen at an auction and then a security guard was beaten "within inches of his life" with the team's defendants being one of the people who committed the heist and beat up the security guard and the other being a rich mega millionaire who they believe is the mastermind behind the case.
Mock Trial loves having people from other majors join.
"We love having people from different majors because we'll have forensic experts, we'll have an engineer,"  said Pay. "We like to have people from other majors so they can help us understand what's going on."
Pay said her favorite part of Mock Trial is going to competitions: "They're such an experience. Not only are you finally being able to put what you've been working on and compete, but the bond you have with these people– we have the funniest memories at competitions."
Mock Trial recently had a competition at Providence College on Nov. 4 which was only between PC and RWU so Pay said that it was not a who won or lost scenario, but she believed both teams did extremely well.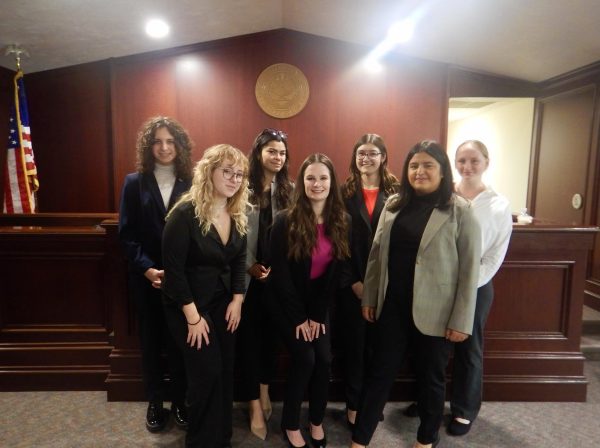 Mock Trial had an Invitational on Nov. 12 at Brandeis University with about ten schools attending. On Sunday, the team placed in the middle of the pack with one of their members, Lauren Alberto, winning an award for Outstanding Witness.
Mock Trial's other upcoming competitions include a competition at Quinnipiac University in January and Regionals at Brown University in February.
Going into their upcoming competitions, Pay is very excited. She is very excited to see what the new members of the team can do.
According to Pay, going to these competitions is new for them, and they have been doing a lot of fundraising and is "super excited" they are able to get to do this.
Overall, Pay said "[Mock Trial] is a really great way to gain experience being a witness, testifying on the stand, seeing how a trial runs, getting that prep in if you want to go to law school."