Equality for club sports
The RWU Women's Rugby team, after winning their second straight National Collegiate Rugby 7s Championship, handed in three trophies from their successful run the past three weeks. However, despite their elite level of play and their consistent national titles, the seniors of RWU Women's Rugby were told that they could not wear 'student athlete' sashes at Commencement next week. The 'student athlete' sashes were only to be given to Varsity athletes, according to athletic director Kiki Jacobs. Rugby, a club sport, were not eligible to distribute the sashes to their seniors. 
"I just wanted to be viewed as a student athlete, because that's what we are," said senior captain Casey Dunbar. "We are athletes. We're a part of the athletic program, and we're definitely students."
Upon receiving the disappointing response, Dunbar and Rugby Head Coach Caitlin Mallahan decided to bring this issue to the people. Dunbar started a petition calling for "equal representation for club sport student athletes," and within 24 hours, there were over a thousand signatures. "We have support, we have a huge community of people that love our program and love our team. Alumni, family, friends, even at the national level. We have made so many friends in terms of teams and other coaches." 
Following the outpouring of support on the petition, Student Senate was able to negotiate with the athletic department to get Women's Rugby – and all the other club sports, including Men's Rugby, Men's and Women's Ice Hockey, Ultimate Frisbee, and Esports – their student athlete sashes. Their sashes will read 'student athlete,' but they'll be differentiated by color: varsity athletes with light blue sashes, and club sport athletes with navy blue.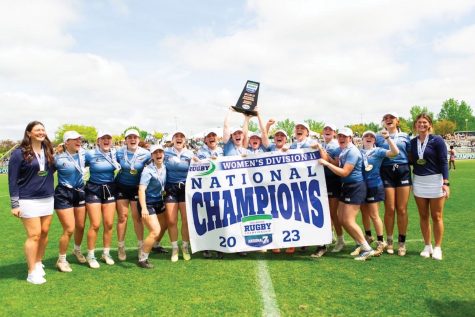 While this was a win for club sports, it's not the first time they've had to fight for recognition and resources. Dunbar described the multiple occasions when her team was denied practice space and forced to carpool to Colt State Park to get their training in, or the ways in which their team was used to promote RWU to incoming students but ignored when they were in need of funding to travel to the National Championships."For a very long time we've just dealt with it, just kept our heads high and moved forward and just kind of been on our own. But we need to start standing up for ourselves," she said. 
At the end of the day, the club teams know that not every sport is created equal. "It comes down to funding," Dunbar said. "I don't want varsity athletes to think that I'm taking jabs at them because I'm not. I respect them. It's more about the way athletics views club sport athletes… I just refuse to not be called a student athlete. I'm not a varsity athlete, and I'm okay with that. But I am a student athlete."