Out with pride at Campus Pride Week
This past month the Roger Williams University campus celebrated pride week. The campus Sexuality and Gender Alliance (SAGA) hosted a week of events to celebrate LGBTQIA+ members and allies. 
The week started off strong with QueerFest with a mechanical unicorn, drinks, bamboo planting, and music to kick off the week. D'Angelo Commons was lined with tables for different groups and activities. There was a make-your-own bamboo table with different colored rocks and stones to be mixed as soil for the bamboo. There was a table handing out pride flags and LGBTQIA+ stickers. The mechanical unicorn was constantly surrounded by people trying to get their chance to ride the unicorn and see how long they could stay on. There was music playing for everyone to enjoy and a Presto Strange drinks food truck, courtesy of SAGA. 
The next day the Queer and Trans Advocacy Center (QTRAC) hosted an educational seminar over Zoom focused on queer and trans sexual health. This event was online and was focused on teaching about LGBTQIA+ sexual health and what services were offered around campus and in Rhode Island.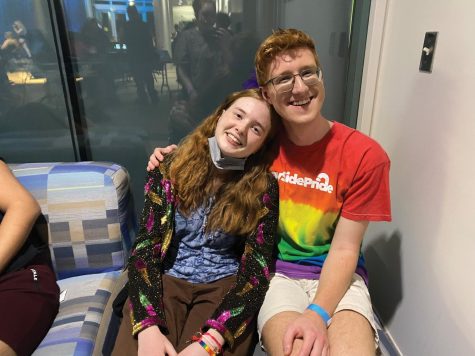 The following day was the biggest event of the week by far, the infamous Drag Brunch, co-sponsored with the Multicultural Student Union. The show featured two professional drag queens and a special student performer, Anthony Merenda. The event served breakfast foods while treating the guests to a series of songs and shows to entertain them. The two professionals have worked with the school before and were very well-known, but the student performer was a fun new addition to the unofficial troup. Anthony, the student performer, impressed everyone with his costume and choice of musical theater and 2010's songs playlist.
Thursday was Karaoke with Pride. The event served snow cones in margarita glasses with an open microphone for anyone who wanted to sing their favorite songs. The night was a perfect way to prepare for the more restful event the next day. People came out to sing a mix of underground music and more popular songs by artists like Taylor Swift. 
The next day was the final event of the week, which was Gender is a Craft-struct. This event was to relax and reflect on the week while cementing those memories. The event had pizza, brownies, and breadsticks for everyone to enjoy while they painted on canvases and talked amongst themselves. It was a great ending to a busy week full of events for everyone right before we get to the end of the semester and into finals.