Student bands form impromptu concert in New Res
From potential talent show turned bingo night, to last minute student bands and comedy show, Roger Williams University students displayed their love of music and entertainment, as well as their ability to create something together through art. 
After the cancellation of a show that several performers were planning to play in, some students were disappointed that they would not get to perform in front of an audience like they had planned. Due to the dedication of students and their desire to perform, they decided to reach out to each other and plan a last minute concert in the New Res great room.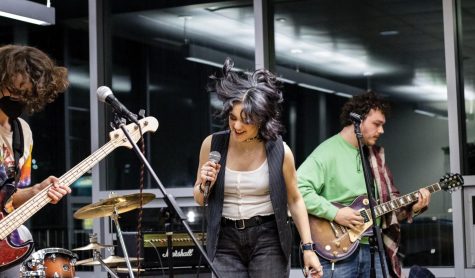 Madison Benson performed as one of two lead singers in her band formed only a few months ago, called "Morning in the Wood." She was excited to perform with the band for the first time and was glad that despite the original plans getting canceled, artists came together to organize this last minute unofficial event. 
"All of us were looking forward to performing this weekend," Benson said, explaining the musicians' desire to still perform despite hearing the original show was no longer going to take place. 
Many students arrived at the event, filling all the seating in the great room and lining the walls, as well as even forming a mosh pit during a few songs at the end. When asked if she was surprised at the large turnout, Benson said "there were a lot more people than I thought were going to be there which was very exciting. The fact that so many people turned out for such a last minute thing is so fun and so exciting. It's so nice to hear applause."
Benson also stressed the importance of giving artists the opportunity to perform. "I think that as a society we don't value the arts as much as we should, and I think just getting to perform with my band and with the other bands is a great way for us to support each other," Benson said. 
The energy was high in the room, the mix of different instruments and vocals blaring through amps and microphones inside the space, so much so that the music could be felt as well as heard. The support and excitement from the musicians toward each other was evident as well. "Everyone in all of the bands stayed the whole time and cheered everyone on, got in the mosh pit, and had fun," Benson said. "Music in general connects people. It brings joy, it helps you figure out emotions, and it's something that creates community and can allow bonds to form so easily."
Benson ended with an important message about the arts. "From what I've noticed, performing arts don't get as much money or recognition, so doing things like this is a great way to show off that bands exist here. Music exists here. So many people perform here and I feel like we don't see that enough. This was a great way for us to get people together, get people excited about music, and excited about performing. It's a great way to get people interacting with music."