What does it mean to be an Equestrian
The RWU Equestrian team is preparing to head off to zones, the second round of postseason competition, after placing third in the regional competition. Three riders are representing the team at zones: Carisa Brogdon, Chloe Noyes, and Leah Petricca. 
Despite the high achievements, many people don't know what an Equestrian team is or how they compete, aside from the fact that they ride horses. What does a horse show look like? What events are they taking part in? How can I join the elite RWU Equestrian team? We talked to Leah Perticca, one of the riders qualified for zones, to find the answers.

Q: What events does the equestrian team compete in? 
A: For the team [at RWU], we do equitation, which means when we ride we're being judged on how we look, pretty much. There's other different kinds of events – like, outside of school, I do jumpers, which is based on time and how fast you go. There's also hunters, which is judged on how your horse looks. Those are like the main three. There's also dressage, which has no jumping involved in that, and there's eventing which is like cross country and for horses.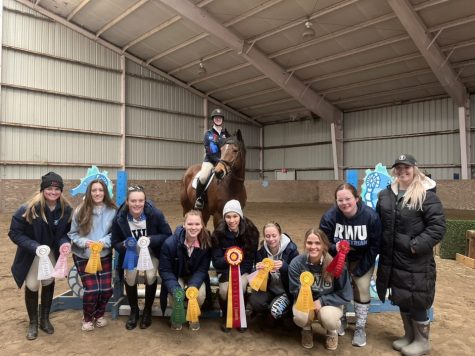 Q: How does a typical horse show go?
A: You go to the show around like 6:30, 7:30 in the morning. And then we get there and we watch all of the horses warm up and do their thing. And then it starts with the highest division, which is open, and then it goes down from there. The first couple of divisions are– you do something called a flat phase, which is just, walk, trot, canter, there's no one jumping involved. After that you do an over fences class, which is jumping, and then it goes all the way down to a beginner level, which is just flat and no jumping.
Q: Can anyone join the equestrian team? 
A: Right now anyone can walk on. We're definitely looking to build our team and get as many people as possible. So we take anyone from beginners to experienced, and you don't have to try out or anything.
Q: What is your favorite part about being on the equestrian team?
A: My favorite part is probably the social aspects. I love getting to hang out with all my teammates, while I'm riding and seeing them around campus. I think that's the most fun for me. We definitely have a strong team this year. And we all get along and we have a great bond. I think that's the most important part. 
There you have it! Those are the basics of being an equestrian. And, no matter your skill level, you are welcome to join the RWU Equestrian team. Get out there and get your equestrian on!