RWU FA and Administration reach tentative agreement for new CBA
After two years of negotiations, the Roger Williams University administration and the union representing 190 full-time faculty members have reached a tentative agreement on a new four-year contract.
The tentative agreement with the Roger Williams University Faculty Association (RWU FA) was reached after seven hours of negotiating at 10 p.m. Monday Jan. 30, according to RWU FA bargaining team head and professor June Speakman. The negotiations had continued after a five hour session the previous Friday.
Faculty had been working without a contract since the last expired on June 30, 2022.  The contract covers both full time and adjunct faculty Speakman said.
An email sent to faculty about the new agreement said, "Given that we have reached this agreement, we are formally ending the job actions that we declared several weeks ago."
Speakman said she felt relieved to have reached a tentative agreement.
"We've been at this for two years and it's been a very difficult negotiation and it's nice to have them completed," said Speakman. "However, they won't be completed until the membership actually ratifies the contract and that's still a couple of weeks away."
She said she could not comment on any of the major changes to the contract because she had not discussed them with union members yet, but once that has happened, will be able to tell The Hawks' Herald about them.
Director of Communications and Media Relations Jill Rodrigues provided the following statement on behalf of the university.
"The university is pleased to confirm that the negotiating teams for the Roger Williams University Faculty Association (RWU FA) and the Administration have reached a tentative agreement for a multi-year successor collective bargaining agreement, which must now be presented to the union membership and the Board of Trustees for their respective approvals."
Rodrigues said the university will not provide comment on specific terms of the tentative agreement until the RWUFA has had the opportunity to discuss it with its members and the appropriate ratification procedures have concluded.
Additionally, she said the university is "grateful for the parties' joint commitment to engaging in good faith negotiation and flexibility as they reached this accord, and we look forward to continued collaboration as the agreement is finalized."
In regards to how the negotiations went Speakman said, "These negotiations were difficult. The Administration chose to seek some pretty significant changes in some of the major features of the contract, so we needed to discuss those and come to agreement on some of those major changes."
Before the ratification vote in a couple of weeks, Speakman said there will be a couple of meetings to present the tentative agreement to members and the document will be made available to review after the language has been updated.
Speakman said she wanted to show her gratitude for the solidarity faculty showed during negotiations as well including when they came to a coffee hour.
"We had a coffee hour with them one morning in the middle of winter break," said Speakman. "They showed up, we had coffee and they boosted our spirits. It was really nice to see the kind of support that faculty show for each other and myself and my team are deeply appreciative of that."
Leave a Comment
About the Contributor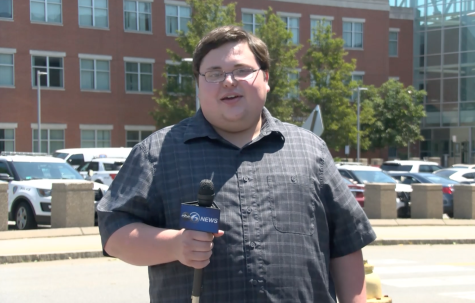 Jimmy Sadowski, News Editor



Jimmy Sadowski is a journalist with experience in print, multimedia, and broadcast journalism. Sadowski's specialty is news, but can also provide...