RWU administration gives update on Racism Stops With Me Campaign
On Wednesday, Oct. 19, members of the Roger Williams University community gathered to discuss the progress the anti-racism campaign, Racism Stops With Me, has had since its launch last school year.
To begin, RWU President Ioannis Miaoulis commented on the progress that has been made since the campaign's launch and said the Board of Trustees are interested in increasing diversity on campus. When referencing the ongoing rebranding initiative, he also said he wanted to make sure that everyone is playing a role in being represented at the university.
Assistant Vice President of Institutional Research, Jennifer Dunseath discussed the data from the Diverse Learning and Environment Survey.
According to the data, most survey responses were received from people who identify as white women, as well as people who identify as straight who come from households who received greater than 60 thousand dollars a year, people who are not first generation college students, people who only speak English, as well as people who have liberal and middle political ideologies.
Additionally, although most of the respondents reported not having a learning disability, 40.1% of respondents reported having a psychological disorder which could include depression, anxiety, PTSD among other psychological disorders.
In response to the academic self concept aspect of the survey, 46.7% said they believed their intellectual self confidence was higher compared to the average person their age.
RWU's Diversity, Equity, Inclusion and Access plan then broke the data down by different racial identities. That showed the majority of BIPOC students felt less intellectually confident than white students and students who identify as two or more races.
When it came to the drive to achieve, 64.9% of all students said they had a higher drive to achieve compared to the average person their age.
In this instance, the data showed that 43% of Asian/Pacific Islander students and 80% of black students reported having a higher drive to achieve than hispanic/Latinx students, white students and multi racial students.
The survey also evaluated the institutional commitment to diversity, and asked whether or not students agree if RWU have had a long standing commitment to diversity.
Overall, 64.6% of respondents agreed with the statement that RWU has been committed to diversity, However, when the data was broken into racial identities, an overwhelming majority of students of color disagreed with the statement, the largest group disagreeing being the Hispanic/Latinx community.
The data indicated this trend continues in responses to RWU accurately reflecting the diversity of its student body in publications, RWU promoting the appreciation of cultural differences and RWU's administrators who regularly speak about the value of diversity.
Just under 75% of students agreed they feel a sense of belonging on campus, however, the majority of students of color did not feel a sense of belonging, specifically, Hispanic/Latinx students were the largest number of students of color who do not feel a sense of belonging.
Vice President for Student Life Dr. John King and Director of Student Conduct and Conflict Resolution Diana Proto then discussed the updates and improvements to the bias incident response approach.
King said that the Office of Student Conduct and Resolution is prioritizing urgency and improving their timeline response.
King and Proto said that they have a 15 business day goal starting the day after the report is received to address a bias incident and transparency will increase with end of semester reports published with the bias incidents that occurred during the semester and how they were handled.
Proto added there's going to be a dedicated investigator, an expedited timeline to 15 days of investigation, and serious changes located in the Student Handbook and Code of Conduct.
The Dean of Institutional Diversity Equity and Inclusion Chris Calienes, then discussed RWU's Equity Scorecard.
According to the entering cohort demographics data, in Fall 2022, 82.7% of the entering cohort identify as white, 8.9% identify as Hispanic/Latinx, 3.3% identify as two or more races, 2.0% identify as Asian, 1.9% identify as black, and 1.0% identify as non-resident.
While Calienes said that there was no apparent pattern to retention rates between groups, retention rates for students were higher for students of color even though the GPA is lower.
The data also showed black graduates had the highest GPA at graduation.
After that, Calienes discussed the Pride Index, a series of questions asked about programs offered to LGBTQ+ students at a university.
The strengths of the Pride Index include that it is flexible, an opportunity to benchmark, and establish realistic goals to aspire to. However, its weaknesses are that it is a self assessment and does not capture the accessibility of services, said Calienes.
To ensure that RWU is doing its best to maintain its 4 out of 5 star Campus Pride score, Calienes said DEI will hold structured conversations about what the Pride Index says and explore more ways to collect data about students in a meaningful and ethical way.
Title IX Coordinator Dr. Jennifer Stanley closed out the presentation giving the audience options as to what to do next to promote diversity on campus.
Those options include: signing the Roger Pledge, student activism through clubs and organizations, participating in campus wide events, serving as a member of a campus leadership team or task force or seeking opportunities for ongoing learning
Vice President for Equity & Inclusion and Chief Diversity Officer Stephanie Akunvabey in closing remarks said that she wanted to be honest with the community about the data which was collected, and to express appreciation for all student participation in the anti-racism campaign and data collection.
Leave a Comment
About the Writer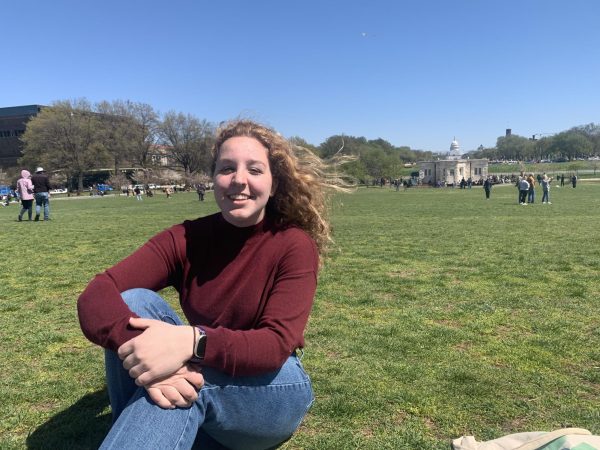 Lily Neves, News Editor



Lily has been the News Editor for the Hawks Herald since the Fall of 2023. She enjoys keeping the campus updated on the current events around campus....