RWU celebrates Homecoming & Family Weekend
The fall season is fully in swing and so are the seasonal traditions that come with it. At Roger, that means Homecoming & Family Weekend is back again.
Events kick off Friday, Oct. 14 with four main events: the Athletics Hall of Fame Reception and Dinner, a Student Theater performance of "Almost Maine", and what Assistant Dean of Students and Director of Student Programs, Leadership, & Orientation Carol Sacchetti described as fan favorites in years past, Casino Night and Family Bingo.
"I used to be on the Homecoming committee before I started coordinating all aspects of it since 2006 and we've always done a Casino Night," said Sacchetti. "I think Casino Night and Family Bingo will definitely be popular because we know they have been a tradition students have with their families."
This year, Sacchetti said the Upper Gym will be turned into a bingo hall and, in Casino Night, students will be dealers with games including Blackjack, roulette, Caribbean poker, Texas Hold'em and a Mario Kart competition.
Autumn Fest, hosted by RWU student groups, will also return this year with live music from student vocal and dance groups, carnival games, arts and crafts and free food. It will take place at 1 p.m. Saturday on the Campus Recreation Center Patio and Commons Quad, Sacchetti said, "Autumn Fest is just a great time and the weather looks like it's going to be beautiful."
A number of athletic events will be taking place over the weekend as well with Cross Country, Sailing, Women's Soccer, Softball, Field Hockey, Men's and Women's Swimming. Women's Volleyball, Men's Soccer, Men's Ice Hockey, Men's Lacrosse, Wrestling and Women's Lacrosse all taking part.
The annual Cross Country 5 K Road Race at 9:30 a.m. Saturday morning and there will be a new event feature. This year the Cross Country team will be collecting sneakers people donate to support a non-profit.
"[Each year] we do some of these signature events, but we add different touches to make it new and exciting each year," said Sacchetti.
New events hosted by student academic groups this year include an architecture panel put on by students for students to showcase their experiences in their internships to families and other students and Touch a Truck presented by the Women in Construction Management Student Club which Sacchetti said has been in the works since late spring.
Touch a Truck is held in Gravel lot in Lot D and will have "large and exciting vehicles" for children and families to explore.
Another new event is Hawks on Fire with performances by the RWU dance club, Dance Team, Cheer Team, Hawkward, LED performers and an aerialist. The Inter Class Council (ICC), Sexuality and Gender Alliance (SAGA), Campus Entertainment Network (CEN), and Multicultural Student Union (MSU) will be sponsoring.
No mandatory COVID restrictions will be put into place for the weekend, but Sacchetti said the university encourages students and families to do what makes them feel comfortable and if people want to wear masks, they should feel free to.
Sacchetti also said the weekend is fun for both students and families.
"I think everybody is welcome and Homecoming & Family Weekend is a great time for families to come to campus, but also for students to connect with each other," said Sacchetti.
Those who wish to participate in the events of the weekend can register at the following times and locations: 6 p.m. to 9 p.m. Friday in the Campus Recreation Center lobby/foyer and 9 a.m. to noon. Saturday in the Campus Recreation Center lobby.
Leave a Comment
About the Writer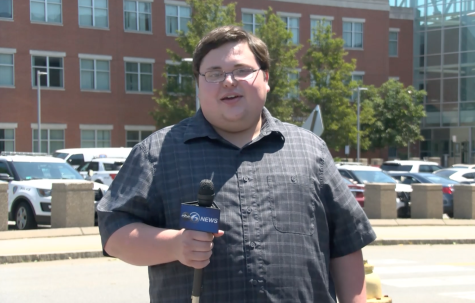 Jimmy Sadowski, News Editor



Jimmy Sadowski is a journalist with experience in print, multimedia, and broadcast journalism. Sadowski's specialty is news, but can also provide...