What do Rhode Islanders need right now?
Underserved communities in Rhode Island have long been ignored by the very people meant to represent them. This is what they want those in power to do to help them.
CENTRAL FALLS, PAWTUCKET, PROVIDENCE, WASHINGTON PARK, WARREN, R.I.﹘Every election cycle, we see time and time again that, in spite of candidates' never-ending campaigning, there are particular communities whose issues have gone unnoticed or ignored by the mainstream media. The main goal of this series is to reach out to members of these communities in Rhode Island with the intention of cultivating an ongoing relationship with them and giving them the opportunity to share their stories. We also want to ask them what issues they are facing, and how they want the politicians who are supposed to represent them to do about it.
We have multiple teams working for us, each covering a different disenfranchised community, such as houseless people, incarcerated individuals, the Hispanic and Latino community as well as the LGBTQIA+ community. We are also covering those that are or will soon be victims of the effects of climate change. These teams have spread their coverage out across the state of Rhode Island, including Providence, Newport, Warren, Central Falls and Pawtucket.
What makes this effort unique is that we are using a transformative journalism approach that includes community-drivenand solutions journalism, in which we center the story around solutions to the problems raised by the local residents rather than just the problem itself. You might be asking yourself, "why does it matter now?" The answer comes in the form of Democracy Day, an internationally celebrated holiday that is meant to promote and support democracy across the world. We are celebrating this holiday by giving those who are routinely ignored by mainstream media, as well as the politicians who are supposed to listen to them, the opportunity to let their voices be heard. We hope that these stories will make the candidates aware of the fact that they have let these communities down, and now they have the platform to speak about what it is they want from them.
However, this is by no means a short-term project. This first story is only our first step in a process that takes place over the next several months. We have started by introducing ourselves to the communities and making them feel comfortable sharing their stories with us. Once we have published our first story, we will be going back to those communities with a better understanding of the problems they are facing. With local and state elections drawing near, we will be asking residents what they want from the candidates, and at the same time, we will make the candidates themselves aware of the fact that these communities are being overlooked. Then, once the elections have come and gone and we possibly have newly elected officials, we will be able to hold them accountable to those communities we serve while bringing more and better information to the communities so they can make more informed choices about their priorities and their representatives.
Labor rights in the Hispanic and Latino communities
One community that needs help is the Latino population in Central Falls, especially those who are undocumented. Census data from last year said Hispanics and Latinos are one of the most represented ethnicities in the city at 69.3%, one of the biggest populations in Rhode Island.
Within the Hispanic and Latino populations of Central Falls, the issue of concern is workers' rights.
The Community Coordinator for Fuerza Laboral, David Molina-Hernandez, said that labor exploitation and wage theft are the most prominent issues.
Undocumented immigrants tend to be the most vulnerable to wage theft and exploitation because they don't feel they have a full scope of rights here. A large issue would be working over 80 hours and being paid for 40 hours.
In nearby Pawtucket, which also has a sizeable Hispanic or Latino population of 25%, David and Fuerza attended a Teamsters Local 251 Union strike at DHL Express ServicePoint.
There, labor issues affected not specifically just Latinos, but a number of different populations that make up the union.
At the strike, courier and union member Rasche A. Brown said he is fighting for higher wages and healthcare to be provided for these workers. There are people who cannot afford the surgeries they need with what they are being paid at the moment. Brown needs open heart surgery but cannot afford it.
"If you ask anybody, they'd say I was supposed to have open heart surgery last Thanksgiving. I can't afford it and if I don't get the surgery, I'm going to die," said Brown.
These problems have arisen because of corporate greed which is why Governor Dan McKee is fighting for income.
"Our number one goal in the state of Rhode Island right now is to increase people's incomes and that's why you're standing here today. Benefits and incomes," said McKee. "So I stand with you. There's no reason you're not getting to the table. Negotiations are part of contracts and if I can help get you to the table I will."
Brown said simply asking politicians for help could be beneficial.
"Ask them if they'll help us out," said Brown. "Step in and help us out. That's all we're asking."
Incarceration in Rhode Island
People who are members of the incarcerated community once released from jail sometimes have issues with starting anew. One organization has stepped up to help out those people.
Open Doors is an organization in Providence that serves those who have been or who currently are incarcerated and need help getting back on their feet.
Brandon Robinson, Community Director of the Stop Torture RI Coalition at Open Doors, was once incarcerated himself and explained the situation firsthand. Robinson recalled his days in the bathroom-sized jail cell and recalled his back and spine being injured from sleeping on a hard cement bed.
Many of these prisons do not allow the incarcerated to step outside of their cells other than for about forty minutes a day, leaving them to spend just over 23 hours in their cells per day. There is no cleaning allowed nor are any cleaning supplies provided for the inmates.
Between the hours of 7:30 A.M. and 4:30 P.M. is when food is served giving the inmates three meals a day. Nothing is served before or after these hours. Inmates are also given ten minutes a day to shower, then escorted directly back to their cell.
Today, there is a 32 F rule that states while somebody is on probation for a misdemeanor, the prison can then be used to hold them for 10 to 30 days without being tried guilty first. Within this time, they can lose a job, house, children and even relationships. These 30 days are make or break for some incarcerated people once released from jail, maybe for a crime they did not even commit.
Robinson and his team are currently working to change the culture of prisons and allow these prisoners an easier transition once released from jail if they are granted bail. Many citizens do not care that these individuals are being neglected and tortured while they serve their time.
There are also quite a few politicians as well helping the cause, Robinson stated representative Leanor Felix is their sponsor at the moment helping with this fight. Getting rid of 32 F would undoubtedly bring light to former inmates on probation.
What the people do not know is that these citizens are trying to better themselves and want to do better in the future. It makes it hard for them to do so when they are living in such unstable conditions. For those who are spending their life in prison, more humane living conditions are needed.
The transition after prison can be dehumanizing and the way people are treated after is not okay. Luckily, Open Doors is an organization that works to support these types of citizens. Open Doors wants past inmates to continue on with life and try to progress with their everyday routine.
LGBTQIA+ Rights
Same-sex marriage has been legal in Rhode Island since 2013. To many, that was the peak for the LGBTQIA+ community, as this right had been the goal of activists for years.
However, despite this historic win, ten years later the fight for equality for Queer people is far from over. Although the LGBTQIA+ community is marginalized, it is apparent that some members may face more oppression than others.
Sandra Richard, a past president of PFLAG Providence says that Rhode Island is somewhat safer. Richard says safer does not mean safe and that there are still a number of issues that the community faces.
According to Richard those issues facing the community include the overturning of the Supreme Court case Roe v. Wade, anti-transgender bills and youth houselessness.
PFLAG members, including Sandra and the current president, her husband Ron Richards, have testified before the Rhode Island assembly in the past. They were present during the hearings that led to the enactment of the 2013 marriage equality bill, and the more recent hearings that resulted in Rhode Island banning conversion therapy in 2017.
Pollution in Washington Park
Pollution is a significant issue that neighborhoods in South Providence are experiencing according to the chair of the Washington Park Neighborhood Association Linda Perri. Perri had mentioned there are scrap metals companies paying thousands of dollars for violating Clean Air Acts.
The Association is working with the Rhode Island Department of Environmental Management and the Providence Neighborhood Planting Program to plant trees to combat the climate crisis by capturing carbon that may end up in the atmosphere.
Washington Park Library Manager Amy Rosa said she works and lives near Washington Park and Allens Avenue and the quality of life there is negatively impacted by the "smelly air". She said she would like to see the elected political candidates help clean up the area, from sidewalks and roads to helping regulate the industries along the Port of Providence.
Additionally, she believes one of her children has developed asthma as a result of the poor air quality in the neighborhood.
According to EcoRI, Rhode Island has the ninth-highest asthma rate in the country and 10.9 percent of the population are suffering from the respiratory condition.
A priority we will be looking further into is how Providence can include infrastructure for flooding such as more hurricane barriers which Perri suggested. Perri also said she is trying to have Johnson and Wales switch to using solar energy which may help with hot temperatures coming off parking lots. That along with planting more trees could help with asthma and breathing problems people in the area have been experiencing.
Sea level rise in Warren
The town of Warren is experiencing an unpredictable time of sea level rise. Warren residents are entering unfamiliar territory as they are forced to flee their homes when the waves come crashing in. The current low-income, working-class citizens that reside along the shore are facing forced removal due to the actions of the town's previous residents.
Warren was developed as an industrial town with many commercial plants along the water. This town is not the only one to be reaping the consequences of prior ancestors, but they are the first to experience the adaptation method of retreat. The harmful emissions produced by the factories have created long-term problems that require short-term and long-term solutions.
Director of Planning and Community Engagement Bob Rulli developed a plan entitled "Market to Metacom" as a way to remove residents from the shore, and away from the eroding coastline. "With the Market to Metacom plan, the ultimate goal would be you start to take out the most vulnerable housing and that's going to be the ones closest to the water that have repetitive events of flooding," Rulli said.
However, the removal is limited to the town's working-class residents, leaving them with no guaranteed affordable housing to rely on after they are displaced. A retreat is an innovative form of adaptation, as Warren will be one of the first towns to embrace such a plan, but it leaves residents even more vulnerable than they are on the shore.
Removal from housing can cause a harmful chain reaction for the residents. Many of these residents may struggle to find future housing, as many landlords may turn them away after discovering they were removed from prior housing rather than leaving of their own volition.
The Market to Metacom plan strives to develop affordable housing to provide the Warren residents with the opportunity to remain within the town, a solution that would benefit the residents and the town's economical balance.
The retreat plan is a short-term solution, meaning the town will still be vulnerable to the effects of sea level rise and coastal flooding. The retreat only protects a small portion of the town's residents from dealing with these climate change effects. As the sea levels continue to rise the coastline will creep further into the town, continuing to wipe out residential housing.
It will be important to respond to the climate change effects by understanding what other towns have done in the face of similar situations. The goal is to determine a long-term solution to protect Warren residents from the harmful effects of climate change.
The residents should not fear a complete removal from the lives they have created in Warren. Learning from the accomplishments and failures of areas placed in a similar situation will provide hope for a plan of action that preserves the livelihood of this small town.
Moving forward as elections come closer, we plan to research potential solutions for these communities that could help and inquire with politicians about what they could do to address the issues and if they are addressing them at all already.
(Credit to Jack Aviles, Luke Brennan, Kristen Dansereau, Jocelyn Jackson, Emily Rosen, Natalie Klier, Jimmy Sadowski and Sam Elwell.)
This story was produced as part of the Democracy Day journalism collaborative, a nationwide effort to shine a light on the threats and opportunities facing American democracy. Read more at usdemocracyday.org.
Leave a Comment
About the Contributor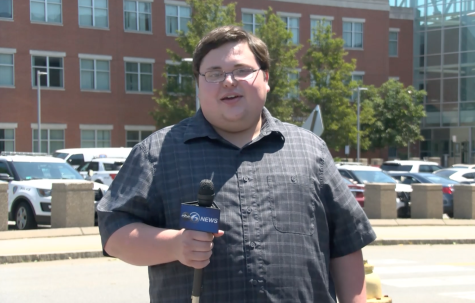 Jimmy Sadowski, News Editor



Jimmy Sadowski is a journalist with experience in print, multimedia, and broadcast journalism. Sadowski's specialty is news, but can also provide...