Catching the passion for everything she does
Isabelle Rosado, from Central Islip, N.Y., has eagerly competed on the field during her junior year on the Roger Williams University softball team.
Rosado is a member of the RWU Army Reserve Officers Training Corps (ROTC) program and was sworn into the military last year. She gained many life skills as she balances academics, the ROTC program and athletics.
"It is challenging, but it builds a lot of character," Rosado said. "This year I focused a little bit more on softball because last year, my sophomore year, I focused a lot on ROTC because I had just sworn in."
There are times when she has to miss one commitment for another, but she works to put her best foot forward for whichever of her many commitments needs her and to balance out her schedule as efficiently as possible.
"I communicate a lot with my softball coach [and] my science instructors," said Rosado. "They are very understanding and they work with me."
Rosado got into the sport as a mere 3-year-old as she played on a boys' tee-ball team before the girls' leagues came into play. By the time Rosado headed into slow-pitch softball she was already in sixth or seventh grade, as she recalls.
"My mom was a pitcher in high school and my aunt was also a pitcher, and one day they asked me 'Do you want to play softball?'" said Rosado. "And I was like 'Yeah the ball is soft right?' Little did I know."
This past weekend, Rosado sustained an injury during the first inning of the team's second game against Wentworth Institute of Technology. The ball unexpectedly hit the ground and shot up at her face, leaving her to sit the rest of the game out with a broken nose.
On the field, you will likely see her playing infield, positioned at third base. When learning the game, she originally wanted to play as a pitcher but her mom convinced her otherwise.
Rosado said her mom explained that you need to have a strong mindset and constant composure, especially under stress. She has a strong mindset, but she agrees with her mom that she would struggle to maintain composure in high-pressure situations at the collegiate level.
After falling in love with the Bayside Apartments as she toured the campus, Rosado made a last-minute decision to commit to Roger Williams University contrary to her intended enrollment at the University of Massachusetts Dartmouth. Luckily, she has been given the opportunity to house in the Bayside Apartments this year, enjoying one of the biggest selling points of this school for her.
Rosado said that, in a heartbeat, she would say yes to coming to RWU if she had to do it all over again.
Outside of all her other responsibilities you will likely see Rosado either eating dinner with her teammates or wrapped up in a movie, of which her favorite is "The Breakfast Club."
View Comments(1)
About the Contributor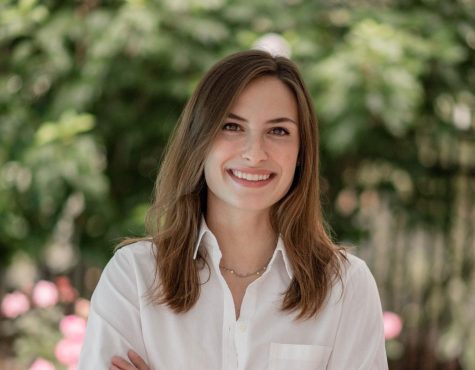 Kristen Dansereau, Sports Editor



Kristen Dansereau had a passion for journalism since the beginning of high school, and her passion for sports began even earlier than that. She loves...