Surf into spring with Spring Week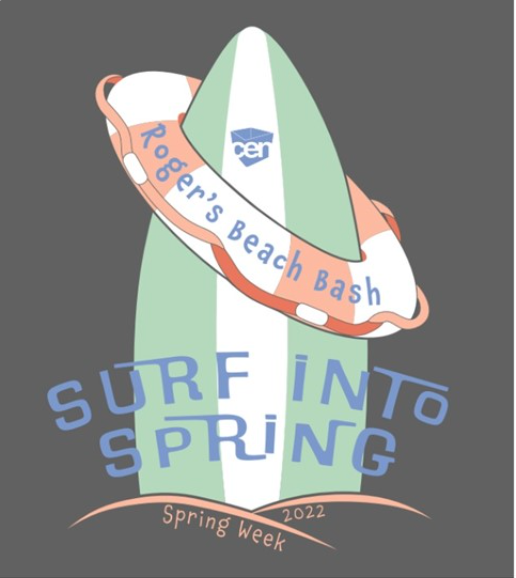 The week every Roger Williams University student has been waiting for is here: Spring Week! After dealing with COVID-19 for the last few years, the Campus Entertainment Network (CEN) is excited to bring back their full-scale Spring Week.
Take a break from studying for finals and participate in these fun events that each have their own tropical charm.
Makin' Waves
When: Monday, April 25 from 11 a.m. to 2 p.m.
Where: Commons Quad
For the first day of this year's Spring Week, stop by this fun lunchtime event and check out the cool activities Where's the Fun? has in store. See if you have what it takes to beat the mechanical shark.
Karaoke Beach Lounge
When: Tuesday, April 26 from 8 p.m. to 10 p.m.
Where: Global Heritage Hall (GHH) Atrium
Spend the night with friends and sing your hearts out at this tropical karaoke event. Sip on some mocktails as you mock your buddies' singing abilities under tropical themed decor.
Roger's Tropical Escape
When: Wednesday, April 27 from 8 p.m. to 10 p.m.
Where: GHH Atrium/Lawn
Join CEN at Roger's Island Getaway for a night full of good vibes. There will be a number of things to look forward to, including door prizes, a Kona Ice food truck and DJ Mark the Shark.
Spring Concert
When: Thursday, April 28 from 8 p.m. to 10 p.m.
Where: Field House
The annual Spring Concert is back and in person, and this year's headlining performance is Bryce Vine, with openers Social House and Olivia Knox. Tickets are still available through University Tickets for $15, so make sure to grab them!
Quad Fest
When: Friday, April 29 from 2 p.m. to 5 p.m.
Where: Commons Quad
Swing by the Quad for an array of games, such as the Mechanical Surfboard and Connect 4, and the Flat Waves and Black Dog Donuts food trucks.
Final Comedian
When: Friday, April 29 from 8 p.m. to 10 p.m.
Where: Field House
Spend a night of laughs with Saturday Night Live comedian Chris Redd.
Block Party
When: Saturday, April 30 at 2 p.m.
Where: North Campus Parking Lot
Enjoy carnival rides and games at this year's Block Party. Don't forget to check out a variety of food trucks, including Spike's Junkyard Dogs, Twisted T's Bread Cones and Del's Lemonade, as well as a barbecue from Commons.
Fireworks
When: Saturday, April 30 at 8 p.m.
Where: GHH Lawn
Join CEN to celebrate the end of Spring Week with fireworks. Relax on the GHH lawn and enjoy the show as you eat a tasty treat from an ice cream truck.
For more information about Spring Week events, visit CEN's page on Hawk Link.
Leave a Comment