Greater sustainability and self-reliant food systems at Commons
As COVID restrictions have loosened, dining at RWU has gotten closer to where they were before with their operations and sustainability initiative pre-pandemic with some new changes.
Removing take-out from Upper Commons and going back to fully in-person dining has significantly decreased the university's use of single-use disposable plastics according to Dining General Manager James Gubata.
"We're netting approximately 2,500 sets of single use plastic take out kits per day," said Gubata. "It's a big impact on the environment and was a huge cost for facilities to haul it out, so you can imagine all the carbon footprint that's going away not having to use single-use plastics."
The university also saves about $2,000 each day without using the plastics, according to Gubata.
Gubata said he feels members of the university community can all improve in their support of sustainability.
"I think we can all do a little better and success and improvements are usually done in small increments," said Gubata. "There was a time when we were trying to ban plastic straws on campus and look how far we've had to slip back due to COVID. We need to get back to that point where we're looking for those small wins that add up. A river is created by a drop of rain at some point in time."
If COVID Operating Levels were to go back to a point where take-out dining became necessary for health and safety, Gubata said dining could switch back "pretty quickly" to take-out and they have a large inventory of take-out supplies they stocked up on in the height of the pandemic that can be used for years to come.
Like many businesses, dining at RWU was affected by supply chain issues during the pandemic. Gubata said those issues created a more resilient food system for the university to purchase from.
"When it comes to the food and using local vendors, there was no interruption," said Gubata.
Now, a goal of the university is to support local food vendors so that when national problems occur they can be more self-reliant. Currently, 10% of New England's food is local and Gubata said dining is working with an organization to support an effort to see New England reach 30% self-sufficiency by 2030 and 50% self-sufficiency by 2060.
An example of the work the university is doing to help make the region more self-reliant is their work with Brown University and Smith College to purchase more shredded mozzarella cheese from Narragansett Creamery.
The Henry P. Kendall Foundation awarded the creamery $250,000 to expand its infrastructure and mozzarella operations and Gubata said that the university now uses that mozzarella on its pizza which is a major ingredient the university goes through daily.
In what Gubata said is a very stressed labor market, the university has been receiving a high number of student applications and hiring a record number of students for dining. Over 70 students now work in dining and applications are still coming in.
"I'm really appreciative that the student body has filled a need in dining and dining is hopefully filling the need for students to earn some extra money, not to mention potentially learn a good skill," said Gubata. "Those skills, while not academic, are useful skills in the art of life. When you graduate, to be able for your friends because you worked in the dining services at Roger Williams is an extra bonus to the education."
In regard to progress the university can make in sustainability Gubata said, "Dining is only as good as what the students believe in and what they want to do. Sustainability is a responsibility that's shared by every single person on this campus."
Leave a Comment
About the Contributor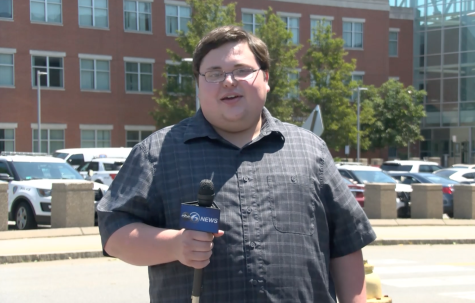 Jimmy Sadowski, News Editor



Jimmy Sadowski is a journalist with experience in print, multimedia, and broadcast journalism. Sadowski's specialty is news, but can also provide...