Mixed thoughts from students on new EVERFI trainings
The return from Spring Break also marked the conclusion of new EVERFI training courses for sophomores and juniors.
Sophomores had to take one course while juniors had to take two.
The course for sophomores was about sexual assault prevention and healthy relationships while the two courses juniors took covered allyship and bystander intervention.
Sophomore Adam Horwitz said he thought he learned important information about relationships during the course.
"I think I learned the signs of what an unhealthy relationship looks like," said Horwitz. "It's good to know if you find yourself in that situation and to know what to do in the future."
In Horwitz's opinion, the course was highly effective.
"EverFi hit upon all the main points," said Horwitz. "If you really take your time and look into that stuff, you're going to end up learning a lot and it will be very useful information."
However, some people may not pay close attention to their EVERFI training.
"I know some people could probably use the training, but at the same time are those people paying attention to the training?" said freshman Sam Gibson. "In order for people to pay more attention, they should make it [EVERFI training] in a way where you can't speed run through it."
Junior Kris Johnson said he thought the courses juniors had to take were not necessary for him personally due to knowledge on sexual assault prevention.
"Growing up I've been told it's [sexual assualt] not something you should do. You don't sexually assault someone," said Johnson. "That's not right. It's illegal and there are so many different levels of wrong. Depending on the person the course might be necessary, but for the most part, it is not."
Junior Melanie Straub said she thought the courses can be useful and thought, "It's just basic common sense everyone should know, but sometimes it can be good to brush up on it."
Senior Ian MacFarlane said all class years should have the additional EVERFI training.
"I think it's better to have that general knowledge for everyone," said MacFarlane. "I think it can benefit every student. I don't think it should be specific to just sophomores and juniors, freshman, seniors and grad kids should have it."
The courses were mandatory and senior Paul Schnadig said he thought the courses should not be.
"I'm more on the stance that they should not be mandatory because I don't think they are particularly useful," said Schnadig. "I don't think that they're going to lead to behavior change. I think that will come through interrogating yourself and doing whatever work it takes to change your view on something."
Horwitz said making courses mandatory would be the only way to make a large number of students do them. If they were optional not many people would do them.
Associate Dean and Title IX Coordinator Jen Stanley said on Tuesday, March 22, that feedback from students from the courses was still being analyzed.
Leave a Comment
About the Contributor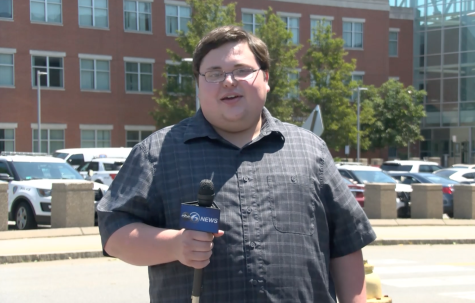 Jimmy Sadowski, News Editor



Jimmy Sadowski is a journalist with experience in print, multimedia, and broadcast journalism. Sadowski's specialty is news, but can also provide...