Brick Pizza Co. Full with High Energy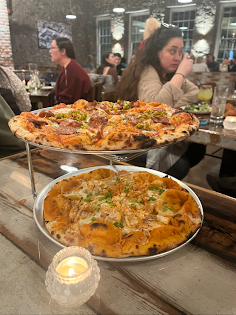 Brick Pizza Co., located at 500 Wood St. in Bristol, serves brick oven pizzas, craft cocktails and divine desserts. From the minute Brick opened its doors just a few months ago, the place was filled with eager residents dying to try out a new spot. The name suits this pizzeria as the ambiance of the whole restaurant is defined by brick and cobblestone. A large light-up sign promoting "Brick" hangs at the entrance, inviting passersby inside.
Everyone, from the hostesses, owners and even the servers, had smiling faces, high energy and positive attitudes. The staff was dressed in jeans and button-down shirts. Each crew member had a different colored button-down which made the restaurant seem lively and fun, allowing the staff to embrace whatever color they were feeling.
The kitchen was open-faced and the brick ovens were visible for customers to see. It gave off a homey and exciting vibe. The bar was on the opposite side of the restaurant, allowing customers to choose between a more traditional dining atmosphere or getting a drink and watching a game at the bar.
The tables were made out of brick with candles lighting each glass tabletop. Brick's cocktails included the Delektable ($12), Passionfruit Martini (11), Mezzo Spritz ($13) and many more. Bottles of sparkling and tap water were also offered for the table.
The Aranci ($13) was a killer appetizer made out of arborio rice, prosciutto, parmesan, tomato-basil puree and micro basils. The serving size was a little small as only three medium-sized arancis were served. However, they were served in hot marinara sauce and every bite was to die for. Other appetizers included Brick Oven Wings ($14), a Charcuterie and Cheese Board ($16), Calamari ($13) and many more.
The brick oven pizza was hot, spicy and flavorful. The Bristol Pizza consisted of sauce fra Diavolo, mozzarella, native chourico, linguica, cherry pepper rings and fresh parsley ($17). The Buffalo Pizza was made up of house-made buffalo sauce, buffalo spiced DaSilva Farm chicken, green onions, mozzarella, buttermilk-blue cheese sauce and scallions ($16). Other pizzas included the Veg ($17), Shroom ($18), Sausage ($16) and more.
To top off the meal, our waitress offered dessert choices. Desserts are changed each night and made to order. The salted caramel cookie brownie sundae ($8) with a scoop of vanilla bean ice cream, whipped cream, a cherry and topped with homemade toffee was a 10/10.
The food is great, the atmosphere is welcoming and the prices are reasonable. The next time you and friends or a loved one are hungry and looking for a casual place with great food, Brick is definitely one to try.
Reservations can be placed through their website and are a good idea as the place is packed almost every night. Their current hours are 4-10 p.m. Monday, Thursday, and Friday as well as 12-10 p.m. on Saturday and Sunday.