Masking regulations relaxed for RWU
The university now operates under Level Orange procedures
For the first time since before the pandemic, members of the RWU community can go and get a meal at Upper or Lower Commons without having to wear a mask.
"What a great place we have reached now where we can start relaxing masking on campus," said Vice President of Student Life Dr. John King when addressing the Student Senate on Monday after implementing Level 3 (Orange) COVID Operating Levels that day.
The major changes in Level Orange compared to Level 4 (Red) is masking becomes optional in all indoor spaces besides shared transportation, classrooms and labs, counseling and Health Services, the COVID Testing Center, public spaces on the first floor of the library and the Athletic Training Room. Testing procedures stay the same.
King said the reason why masking is required in the Athletic Training Room and not the Fitness Center is that when an athlete is being attended to by a trainer, it is a very high close contact situation longer than 15 minutes, and with the university only having three trainers if one got COVID, the university cannot attend to student-athletes as effectively.
Now in campus locations that previously required masking the entirety of the pandemic including The Commons, the second and third floors of the library and the majority of areas inside the Recreation Center, masks are optional. Additionally, masks are optional in individual offices at the discretion of a faculty or staff member or upon request of guests.
When discussing the reasoning behind RWU's updated masking procedures, King referred to the CDC website. According to the website, all five counties in Rhode Island are at medium risk and high risk procedures. Level Red procedures are not as necessary as they were when COVID numbers were higher in the beginning of the semester on campus and in Rhode Island.
When developing the new tiered COVID Operating Levels and deciding to go down to Level Orange, King said three levels of guidance were looked at. The first level is the CDC and hospitalizations per 100,000, hospital admissions per 100,000 and cases per 100,000. The next level is the day-to-day numbers the Rhode Island Department of Health (RIDOH) provides and the most immediate level is campus numbers including campus positivity levels, how many symptomatic students Health Services is seeing and what symptoms they have.
The University plans to move to Level 2 (Yellow) – Moderate Infection Risk by March 26 where masking becomes at the discretion of what faculty members require for students in classrooms and staff or group leaders may require masking with approval from Student Life or Human Resources. Testing would be bi-weekly for those vaccinated and boosted while those who are vaccine exempt or vaccinated, but not boosted will test twice weekly.
However, clearance testing will be required upon students' return from Spring Break. Students will need to get two tests between Sunday and Thursday of the week returning. King said at-home tests prior to returning are encouraged. If numbers continue to stay low, the next level will be implemented the following week.
If students do not comply with the level of masking their faculty requires, and after being told to mask up to a certain extent and do not, King said it will then become a Student Conduct issue.
Masking would be fully optional under the last level, Level Green and testing for those boosted would be optional and when symptomatic and those not boosted or vaccine exempt is to be determined.
In regards to if the university will reach Level 1 (Green) – Low Infection Risk this semester, King said, "Whether or not we get to Green this semester, which would be a wonderful place to be, remains to be seen. I think there's a chance we'll get there."
Looking forward to the end of the semester, King said "I think we're going to be all in on Commencement. I'm a little bit nervous at the number of students that will be past their 90 day period if they tested positive. I think our cumulative immunity levels will be lower come late spring, but I think the warm weather and being outside so much rather than inside is going to be a big advantage."
Leave a Comment
About the Contributor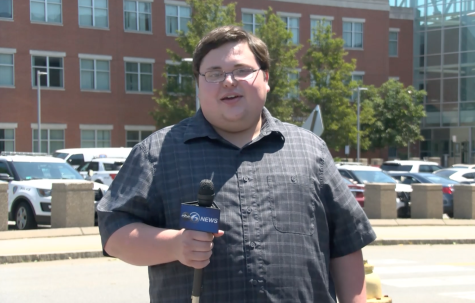 Jimmy Sadowski, News Editor



Jimmy Sadowski is a journalist with experience in print, multimedia, and broadcast journalism. Sadowski's specialty is news, but can also provide...