Center for Women and Gender in development for RWU
A Center for Women and Gender could potentially be established for Roger Williams University.
Relational Design Fellow for the Center for Women and Gender Nikki Juen said President Ioannis Miaoulis offered the initiative to her and wanted research done for the potential center.
Juen had an email sent out on Jan. 20 to the RWU community with a survey to get their input and opinions on what they would want from the center. Members of the RWU community, which includes students, faculty, staff and alumni had until Feb. 14 to complete the survey.
When survey results closed there were over 200 respondents and Juen said she will start putting the data together for early March to see what people are requesting and what's necessary.
In her position, Juen said "My role is to listen. My role more than anything is to collect the data, both qualitative and quantitative."
"I'm a relational designer which means I consider systems and relationships in my work," said Juen.
Juen collaborates with the members of an advisory council Miaoulis developed for the center composed of 11 women from the RWU community. What the center will be is still up in the air.
"I don't know what it will look like, but it has to have action," said Juen. "There has to be action towards policy, administrative understanding and reflecting on the biases that exist on our campus and the dangers that exist for some people on our campus."
Juen said she personally would like to see the center be a place that serves as a workplace for some and a place of learning for others where everyone feels safe and supported to express themselves.
The name for the center is not set yet either.
"The name [Center for Women and Gender] is magnetic in that some people love it. Some people hate it," said Juen. "It's starting to sort of create a conversation, but the request is there to see what is necessary on campus."
She said she hopes a full time employee could be hired to direct the center and provide administrative support.
Juen said she also has to take into consideration what this center would do in relation to the Providence campus as well as they may have different needs there than Bristol.
A number of methods have been used by Juen in conducting research for the center with the RWU community. Surveys to get community members' opinions on the center have been sent out, there have been one on one small meetings and play shops. Play shops were online events Juen said were used to gather information. In-person events have not been able to happen yet.
Moving forward, on March 8, Juen said an event is being planned for International Women's Day with the theme: Break the Bias. "It will be a day of events and we are planning to explore and discuss the survey data that day."
In terms of the development of the research for the center, Juen said she would come up with a mission statement and a series of goals for the center and a series of aspirations for what it could be and how it should take form.
She said by mid March she will make a report or a brief presentation to the advisory council offering what the center could be and then it would travel its way to President Miaoulis and "he'll be able to press go on what this means and how it could unfold for the community."
Leave a Comment
About the Contributor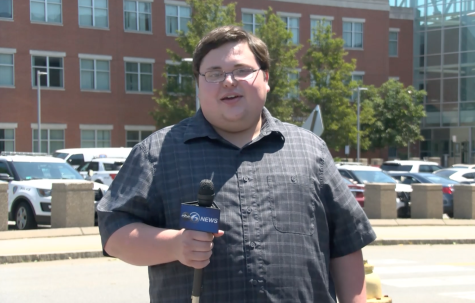 Jimmy Sadowski, News Editor



Jimmy Sadowski is a journalist with experience in print, multimedia, and broadcast journalism. Sadowski's specialty is news, but can also provide...