RWU appoints Dr. Dameian Slocum as Associate Vice President for Student Life
Slocum began his new position full time January 27
Dr. Dameian Slocum has been announced as the Associate Vice President for Student Life according to a Jan. 26 email from Vice President for Student Life Dr. John King. Prior to the decision to appoint Slocum, the AVP for Student Life Search Committee had a national search generating 100 candidates that resulted in eight highly-qualified semi-finalist interviews, and three finalists were identified who had full campus interviews.
Slocum said the opportunity to help students grow made him want to become the Associate Vice President for Student Life.
"I really enjoy the idea of working within areas that help students grow and develop," said Slocum. "Student life has become home for me when it comes to that, so this opportunity allowed me to take what I was doing at Johnson and Wales and actually grow that level of support on a campus that had already been moving in that direction."
Previous to joining the RWU administration, Slocum worked in Student Life at Johnson and Wales University in Providence for over 20 years. As a Resident Assistant (RA) during his time attending Johnson and Wales, Slocum said he fell in love with Student Affairs and worked his way up within that system and department, and had the opportunity to "grow it and transform it in some really cool ways."
In 2012 Slocum became Associate Dean of Students for Student Services at JWU where he helped assist with Residential Life, Transportation Services and Off-Campus Student Services. He was responsible not only for the Providence campus but also JWU's branch campuses in Charlotte, Denver and North Miami where Slocum said he had functional responsibilities for them.
He also said he, "made the case for and developed Off-Campus Student Services at Johnson and Wales University and made sure there was a strong footprint for that office, a space that had all of the needs that commuter students felt were important for their campus."
Slocum said he added resources in that area so a commuter or off-campus student had a number to call just like a residential student does.
His role in Transportation Services he described as a big operation and as a big believer in mass transit he himself does not have a car.
Similar to what he did at JWU, Slocum said he will make sure the voices of off-campus, commuter and graduate students are heard and their needs are addressed.
As AVP, Slocum said he will be partnering with the teams in Student Conduct and Conflict Resolution in the Department of Residential Life and Housing. He will also work closely with Student Programs, Leadership, and Orientation (SPLO).
Slocum said he wants to make sure there is room for conversations on diversity, equity and inclusion and what that will look like on campus.
As a big believer in spiritual wellness, Slocum said he will be working with King to talk about what the future of spiritual life on campus will look like and how to bring that forward.
Slocum said the university is getting a person who looks very serious but likes to smile and have a good time. He can be introverted at times and is better in small groups but does not shy away from large groups. "I prefer to let people shine in the way that they shine."
He said he looks forward to getting to know the students of RWU and he will listen and collaborate and wants every student to succeed.
Leave a Comment
About the Contributor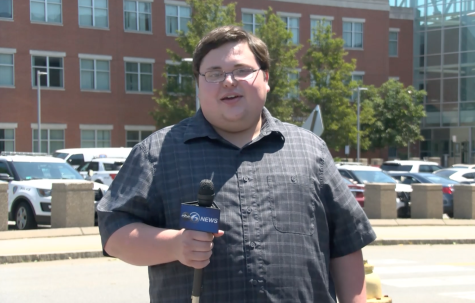 Jimmy Sadowski, News Editor



Jimmy Sadowski is a journalist with experience in print, multimedia, and broadcast journalism. Sadowski's specialty is news, but can also provide...