New building name on campus
The SECCM learning labs building has been renamed to the Richard L. Bready Applied Learning Laboratories
What used to be referred to as "the new School of Engineering, Computing and Construction Management (SECCM) building" was officially named the Richard L. Bready Applied Learning Laboratories.
As to why it was named after Bready, SECCM Dean Rob Griffin said, "it's just recognizing the generosity of Mr. Bready in terms of establishing facilities here on campus."
Bready served as the chair of the Roger Williams University Board of Trustees from 2007 to 2018. During his time as chair Bready established the Richard L. Bready Minority Endowed Scholarship in 2007 which provides financial assistance to under-represented students who maintain high academic standards.
RWU dedicated the fully donor funded Richard L. Bready Mount Hope Bay Sailing and Education Center in 2015. In his final years, Bready was a strong supporter of what was then known as the School of Engineering, Computing and Construction Management Labs project which now bears his name.
Griffin said nothing in the building changed other than the name.
"There's no change in the utilization of the building, it's just recognition of his generosity."
The decision was made on the new name prior to Griffin beginning his tenure as SECCM Dean on July 1.
Griffin said the university waited until last week to officially rename the building because they wanted to do an event around the board of trustees and show the board the building.
"People essentially weren't on campus for several months and there were limitations on the number of individuals that could be in a building or a space within a building at a given time. I think it really was just logistics and nothing more than that," said Griffin.
Griffin said the building will host a few events over the coming year to celebrate its opening. These events include a small, private event with the Bready family, a small, private event with the family of Griffin's predecessor Dean Potter, and in early 2022 an event for students and recent alumni to network and celebrate the building's opening.
"We're really really excited to have the building officially named," said Griffin.
Leave a Comment
About the Contributor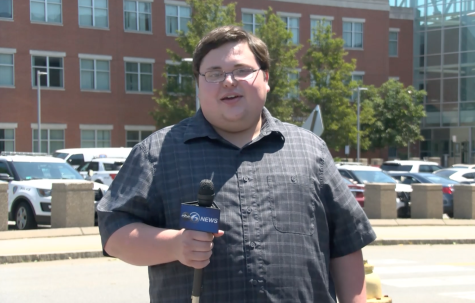 Jimmy Sadowski, News Editor



Jimmy Sadowski is a journalist with experience in print, multimedia, and broadcast journalism. Sadowski's specialty is news, but can also provide...