CDO responds to bias incidents on campus
Student Conduct and Conflict Resolution, Public Safety and the Bias Response Team have been investigating allegations that include racial slurs and offensive language being used toward students of color said University President Ioannis Miaoulis, Vice President for Equity and Inclusion Stephanie Akunvabey, and Vice President for Student Life John King in a Wednesday Oct. 13 email to students.
Two specific incidents appeared to have targeted Resident Assistants of color "who were on duty and performing rounds of assigned residence area," according to Miaoulis.
Akunvabey said the university is not disclosing the residential area where the two incidents occurred.
Miaoulis said the allegations, if accurate, are "reprehensible and inexcusable at Roger Williams University."
"The University denounces these acts of bias unequivocally," said Miaoulis in the email. "As a community committed to civility and respect for each other, we fully condemn any racist acts and will act swiftly to investigate reports of any such incidents that occur in our community."
In response to last Wednesday's email Akunvabey said "students, staff, faculty, and administrators have collectively began to ask, what can be done to prevent these types of incidents?"
"We recognize that bias, racism, and discrimination are complex matters that require equally complex approaches to addressing them," said Akunvabey. "We are focused on the immediate nature of this incident, but also thinking about future steps that are required to build the type of community that we all want to be engaged in."
Students have expressed concerns through various channels to the university, said Akunvabey. Specific charges cannot be disclosed at this time according to Akunvabey.
"We are in the process of developing more transparent policies that outline how we approach bias incidents," said Akunvabey. "We are focusing on accountability and tools that will help members of our community recognize and change harmful behavior patterns, as well as expanding the kinds of support that we can provide to individuals who have been affected by bias incidents."
Additionally, Akunvabey noted that she teaches a section of the First Year Learning Community (FYLC) and this week they covered content related to understanding and unpacking bias.
"This was a follow-up to themes that were introduced in first-year orientation and the required student training in the Everfi platform," said Akunvabey. "We are committed to developing institutional methods that will prevent and address bias in our community."
President Miaoulis said any student who has been offended or needs to process any incidents of bias may contact the Counseling Center at 401-243-3124, email the Student Life Office at [email protected], or contact Dr. Zoila Quezada, Director of Institutional Diversity, Equity and Inclusion, at [email protected] for support and additional resources.
Leave a Comment
About the Writer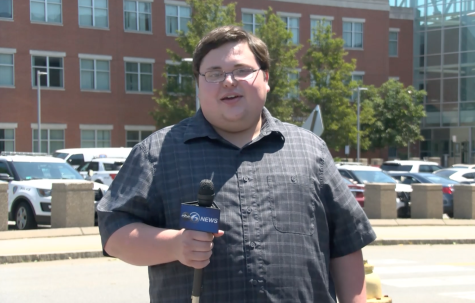 Jimmy Sadowski, News Editor



Jimmy Sadowski is a journalist with experience in print, multimedia, and broadcast journalism. Sadowski's specialty is news, but can also provide...