Taking a STAND against domestic violence
Content warning: the following story covers content related to domestic violence that may be triggering to some individuals.
A resonating silence settled over D'Angelo Common as 15 dancers laid on the paved walkway outside of the library with roses in their hands or by their sides. Curled in fetal positions and slowly shifting into different poses until they stood upright, this year's STAND performance dancers attracted the attention of students and faculty members.
STAND is an annual installation hosted by RWU's dance and performance studies program during October, which is Domestic Violence Awareness Month. The hour-long performance brought mindfulness to domestic violence survivors and victims and sought to destigmatize the shame that can get in the way of justice.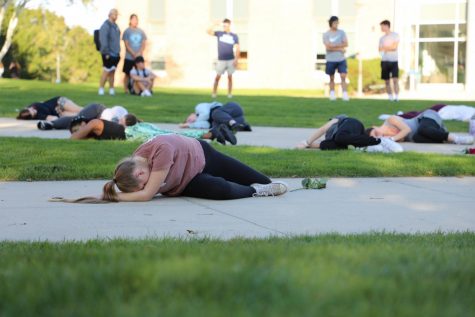 The progressive slow motions symbolized the time it can take for victims of violence to remove themselves from physical and mental abuse and represented survivors' potential to heal, recover and rebuild their lives.
The performance was exceptionally impactful for the thoughtfully engaged onlookers, yet the experience had its own effects on the dancers.
"Looking up and seeing all the people was so inspiring," said Hillary McDonald, a junior involved in the performance.
"[It's] amazing to be in this group of people and holding this together."
Organized by Professor of Dance, Cathy Nicoli, STAND honored domestic violence victims – including her grandmother, who was a homicide victim of intimate partner abuse. Nicoli, who wanted to do more service learning at RWU, implemented STAND and brought the performance beyond the stage by using the outdoor university environment.
Jordan Roberts, a senior, worked at this performance as a Health and Wellness Educator (HAWE) but was also a STAND dancer in previous years.
"I'm really thankful to be a part of it and to watch it – it is so powerful. It's something I've been involved in since freshman year and hold so close," said Roberts.
Unfortunately, domestic violence affects one in four women and one in seven men. The National Coalition Against Domestic Violence also stated that 20,000 phone calls are made each day on domestic violence hotlines nationwide – making it crucial that others learn about domestic violence's impact. STAND took that initiative and the installation's impact is already reaching beyond RWU.
This year – for the first time ever – two other universities (the University of Vermont and the University of Southern Mississippi) will implement RWU's STAND on their campuses. Nicoli expressed her excitement, saying she presented the installation at a conference last spring where multiple colleges picked it up.
In addition to the dancers, life-sized red figures honoring individuals whose lives ended due to domestic violence were placed in front of the university library and near the Gabelli School of Business. These figures were a part of the Silent Witness Project, a traveling memorial that started in 1990 for those whose passing was a result of domestic violence.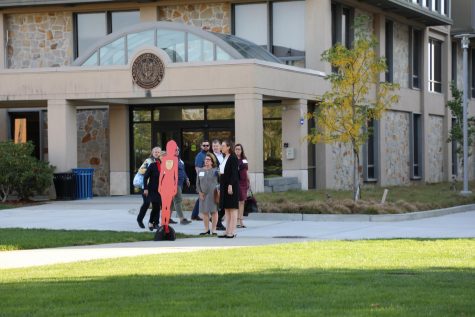 STAND is fearlessly continuing the conversation of domestic violence. As a problem that only grows with silence, raising people's awareness of abuse and its lasting effects is important so we can help end its toxic cycle.
As we honor those who have passed and commend those who have persevered, take the time this October to teach one more person about domestic violence. One voice can have a resounding impact and STAND is leaving it up to us to take the next steps.
Resources
Public Safety: (401) 254-3611
Counseling Center: (401) 254-3124
Title IX at RWU: (401) 254-3123
Day One (Sexual Assault): 1(800) 494-8100
Leave a Comment