Art exhibition attracts alumni talent
In a spacious and brightly lit room at Herreshoff Marine Museum, paintings, photographs and other artistic works decorated the walls while students and faculty members soaked in the creativity.
The opening reception of RWU's "In Cages With Lions" arts alumni exhibition was off to a great start on Oct. 7 with the event bringing in 28 alumni who graduated as early as 1972 and as late as 2021.
"It's awesome to go through the same classes and see all this [artwork] come from Roger," said Danielle D'Aversa, a 2020 graduate.
D'Aversa, who works with ceramics and pen and ink, included several of her pottery pieces in the show.
Among the visual arts were dance components, such as Cathy Nicoli's installation, which was part of a larger dance performance.
Nicoli, an associate professor of dance at RWU and a 1994 alum, strung apples to the ends of red strings that hung from the ceiling. Based on Barry Commoner's four laws of ecology, the installation followed the idea that we are all connected, everything must go somewhere, nature knows best and there is no such thing as a free lunch.
Nicoli said the apple represented knowledge and questioned what we did with that knowledge; there was also the metaphor of hanging by a thread, which humans can so often feel like they are doing.
Her interactive component included a supplementary video in another area of the gallery and illustrated the violence of man.
Overall, the exhibition was successful and entertaining for many.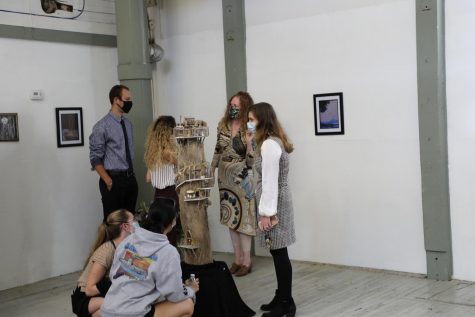 "I really liked the fairy houses. They were super detailed and meticulous…You could look at it for hours and find something new," said senior Hannah Sterling.
While "In Cages With Lions" celebrated RWU alumni from the arts, it also celebrated the professors who helped these students find their way, develop their skills and uncover their inspirations.
"My art education means everything to me. The encouragement to explore material, imagery, or feeling without any judgement allowed me to be the artist I am today," wrote Em Alder in the exhibition's program.
"My education taught me who I am not, and pushed me to accept who I am," wrote Kristen Lepore.
With hats off to Alexander Castro and alumni for putting together a fun and creative show, it will be interesting to see if this becomes an annual exhibition in the future.