6 Steps to Up Your Home's Curb Appeal
(Family Features) For good or bad, first impressions count. Whether you're keeping up with the Joneses or capturing attention from would-be buyers, give your home's curb appeal a boost with these easy steps.
Even if you're not planning to sell, give your home a once-over with the critical eye of a buyer. Make a list of any imperfections that require replacing or repair, and be sure to look from all angles. Also, consider a follow-up exam at a different time of day, when different lighting may reveal new flaws, and even invite a friend or family member to lend their own critique for issues you may have become desensitized to over time.
Prioritize your to-do list, taking into account your budget, which changes will make the biggest impact to your home's appearance and weather considerations (save painting for a dry day with moderate temperatures). If you're in doubt about which items should receive the most attention, a qualified real estate agent or appraiser can give you some guidance, not only on the improvements that will bring the greatest return on investment, but also insight on the features buyers in today's market value most.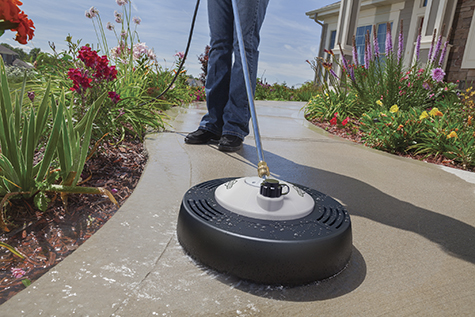 Don't overlook the impact of cleanliness. As the calendar pages turn, your home's exterior accumulates a layer of dust and dirt that can dull its overall appearance. An adjustable pressure washer with Briggs & Stratton POWERflow+ Technology will let you wash siding, garage doors and shutters without stripping paint, as well as delicate items such as glass top patio tables. With the high-flow mode, which delivers up to five gallons per minute, you'll have extended reach to clean second story windows, eaves and gutters or to blast away hard-to-reach cobwebs.
Even when your goal is upping the aesthetics, keep function top of mind. Avoid putting off improvements that will stop current damage or prevent future problems. For example, chipping paint isn't only unsightly, it can lead to rotted wood. Similarly, unkempt landscaping not only looks uninviting, it can harbor creepy crawlies and other critters you'd just as soon not make welcome.
Beware of decks, sidewalks and driveways with faded slats and discolored stains, as these can be telltale signs of a home's age. Fortunately, it's actually quite easy and affordable to give these areas a facelift. Skip the messy buckets and brush, and instead reach for an outdoor cleaning tool such as one of Briggs & Stratton's rotating surface cleaners. These cleaners have integrated detergent tanks to apply and then quickly help deep clean large outdoor areas, while controlling overspray to protect walls and flower beds.
Simple finishing touches can go a long way. Little details like new house numbers, freshly potted or planted flowers, a new porch light and a pretty seasonal wreath on the door all create a cheery, welcoming impression for visitors.
Find more solutions to make the view from your curb as appealing as possible at briggsandstratton.com.