7 Tips for Summer Gardening Success
(Family Features) When temperatures peak and the summer sun shines for long hours throughout the day, it can put a burden on your garden and the plants growing in it. Some steps may be easier to take than others, but there are ways to keep your greenery thriving even in relentlessly scorching heat.
Of course, having the right tools and a personal commitment to gardening are a couple of the first and most important rules, but these tips can serve as simple, helpful ways to keep your garden growing strong.
Check equipment.
Before getting carried away with digging, tilling or watering, be sure that all of the tools for these jobs and others are ready for use. Inspect hoses and spigots for leaks and holes, ensure that hand tools are sturdy and monitor your inventory of important items like soil to make sure you have enough for the tasks ahead.
Know what to grow.
Instead of gardening on a hunch and wasting water or other precious resources on plants that simply don't grow well or bloom in the sum­mer, research which flowers, plants and bushes will succeed. Local experts who sell seeds and bulbs can likely help guide you while you shop for your next plant.
Water early.
By watering in the morning, you can achieve multiple objectives. First, you won't be stuck sweating it out when the sun is directly overhead during the day while trying to hydrate your plants. Second, soaking the soil early can help plants stay hydrated throughout the hottest parts of the day, rather than allowing them to dry out in the heat and attempting to rehydrate them later.
Mix nutrients with water.
Adding fertilizer to water can help balance out deficiencies in certain minerals, depending on the quality of your soil, especially if you aren't able to water frequently.
Keep potted plants cool.
When sitting in the sun, certain types of pots may absorb heat, some­times causing the plants within to dry out and become overheated. Lightly mulching the pots can help, as can placing the pot in a saucer full of moist sand.
Add shade.
Another way to keep potted plants, and all other plants for that matter, cool is to set up a canopy or shade cloth. Especially if your garden is subject to nearly all-day sunlight, it's helpful to give it some shade at the hottest parts of the day with a canopy directly above.
Protect against pests.
While it can be difficult, keeping pests and insects out of your garden can help keep both you and your plants healthy. Repel­lants are an obvious option, but some may negatively affect the growth of plants. Instead, practice habits like maintaining healthy soil and getting rid of standing water (which can attract mosquitoes) to actively deter insects.
By staying committed and following these tips among others, you can keep your garden lush and growing even during the summer's hottest days. Find more tips for a successful garden year-round at eLivingToday.com.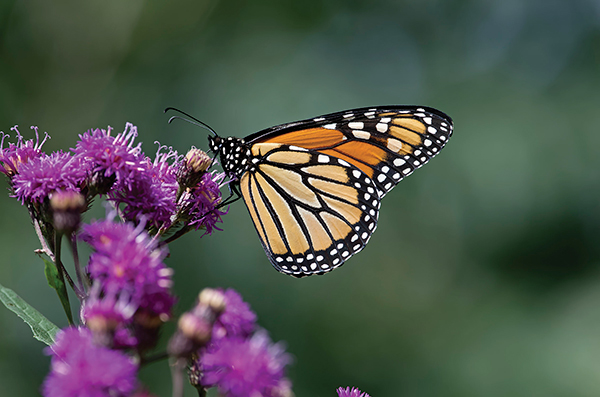 The Annual Monarch Butterfly Journey
Every year, monarch butterflies embark on a 3,000-mile migration across North America. This feat of endurance lasts eight months, spans three countries and captivates people worldwide.
These graceful pollinators rely on milkweed for feeding and reproduction, but over the last decade, a reduction of milkweed habitats has occurred along the butterflies' flight path. The decline of any species can be a threat to natural diversity.
When the weather starts to warm each year, monarchs make their way north from Mexico to begin breeding. Upon arriving in Texas, the butterflies begin to lay eggs on milkweed. Milkweed is the sole food source for monarch larvae, more commonly known as caterpillars. As milkweed plantings have diminished, so has the monarch population.
Environmentalists and butterfly lovers have taken notice of the monarchs' dwindling numbers. BASF, a company that serves farmers and agricultural customers, launched Living Acres in 2015. Living Acres is a research initiative designed to help farmers establish milkweed beds in non-cropland areas.
Farmers and landowners can play an important role in helping increase monarch populations simply by starting a milkweed garden. With employee-tended monarch gardens, BASF is also sustaining butterflies at its manufacturing sites.
As summer approaches, caterpillars begin their metamor­phoses, hatching and transforming into vivid orange and black butterflies.
Once mature, the monarchs continue their journey north­ward, passing over cool valleys and prairieland. Monarchs look for resting places in open plains, often settling in beds of milkweed alongside cornfields, gardens, playgrounds and rural roadsides.
Some of the most popular flight paths include the Corn Belt and Interstate 35, a corridor that runs from Texas to Minnesota. Legislators implemented a federal plan to create habitable space along highways for monarchs by planting milkweed in ditches. This initiative offers food and shelter for weary butterflies and provides nursery sites for monarch eggs.
Monarchs then begin winging their way south to the oyamel fir forests of Mexico. They spend their winters there, crowded together on the tree branches for warmth, which can appear to transform the trees into blazing orange clouds. When warm weather returns the following year, monarchs resume their migration northward and continue the cycle of breeding the next monarch generation.
Establishing your own milkweed habitat is a great way to get involved and make an impact on the continued reign of the monarch butterfly. For planting tips, visit Living Acres at Facebook.com/BASFLivingAcres.
Photos courtesy of Getty Images