Alumni Art Show
RWU alumni art exhibit to be displayed at the Herreshoff Museum
Kayla Ivan, Arts & Culture Manager
September 27, 2021
The arts are alive and well for Roger Williams University alumni of the visual arts, music, theater, dance and graphic design programs. On Oct. 7, from 4-8 p.m., alumni of the arts programs will display and perform their works at the Alumni Arts Exhibition, "In Cages With Lions," at the Herreshoff Museum in Bristol.
The event, curated by alum Alexander Castro, will be the first interdisciplinary exhibition including alumni from RWU; the exhibition will feature a variety of artistic collections that capture the work of each participating artist.
Castro, from the Class of 2014 is an artist, writer, art critic and curator with several award-winning selections. As a regular contributor to "Glass," he has written several pieces about art throughout New England.
"We have alumni participating from the late 1960s to last year, so it will be really exciting to see what our alumni are making and to bring them back together into our community," said Professor of Art Elizabeth Duffy.
Duffy, along with other art professors, has stayed in contact with a number of alumni. Thus, the faculty members were able to either share the opportunity with RWU graduates directly or through social media. Graduates could then apply to have their work presented at the exhibition.
"We have all kept close ties with many of our alumni and wanted to be as inclusive as possible, so anyone who attended RWU and is making art, music, theater or dance was welcome to apply," Duffy said.
Some of the reception's featured alumni will include performances from Ky Why and Professor of Dance Cathy Nicoli. Paulina Kobyar, another alum, will display large scale mixed media paintings.
"This is the first time in my sixteen years here at RWU that we will be hosting an event like this. The exhibition space at the Herreshoff Museum is absolutely magnificent; I know it will be a revelation to see the depth and range of work being made by RWU alumni in this soaring space," Duffy said.
"People should come to see amazing art, to reconnect with other artists and alumni and to enjoy refreshments overlooking the bay," said Duffy.
The RWU Alumni Arts Exhibition is open to the public to view and can be found at Herreshoff Museum which is located on 1 Burnside St. in Bristol. The opening reception will be held from 4-8 p.m. on Oct. 7.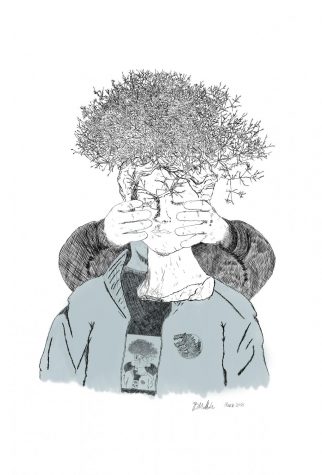 Artist Brendon Maddock's "Pot Head"
Courtesy of Elizabeth Duffy