'We are a part of the solution, not the problem'
Athletics and Student Life moving forward together to follow COVID-19 protocol
It has been about a month since Vice President of Student Life John King held a meeting with all spring sports captains to address an incident that occurred back in March, during which 41 student-athletes attended an off-campus gathering.
According to King, 18 student-athletes ended up testing positive for COVID-19. Eight of these positive cases resulted from student-athletes who directly attended the gathering while the remaining 10 were close contacts who had tested positive while already in quarantine.
Athletic Director Kiki Jacobs said there are still some athletes in quarantine due to close contacts from others on campus, not from other student-athletes.
"All of our teams are playing this week. We had no student-athlete positives all last week," Jacobs said.
King said from Thursday, April 1 to Tuesday, April 14,  only two student-athletes tested positive.
"This week we have had 10 positive cases so far from testing on Sunday, Monday and Tuesday — none are student-athletes," King said.
Jacobs said the athletes who tested positive have to follow a return to play protocol once they plan on competing again.
"Those who test positive must get cleared by their doctor and go through a five-day return to play protocol, something similar to what they would have to do if they had a concussion," Jacobs said.
Spring sport athletes are now being tested three times a week. This was suggested by the spring sports captains.
"It is going well. Captains thought this would be helpful, so we agreed to do it," Jacobs said.
She also believes she has seen vigilance in the athletes and coaches wearing masks. As for athletes complying with the testing protocol, she said it has been smooth.
"Testing has never been an issue because if student-athletes didn't test, they didn't play,"  Jacobs said.
She said athletes are more determined than ever to have successful seasons.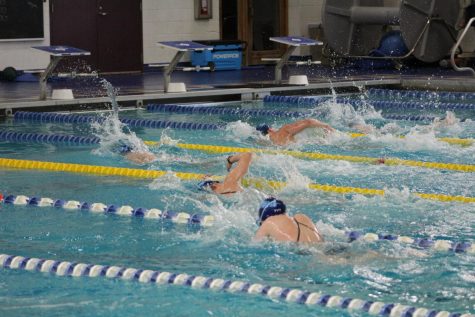 "Many student-athletes and coaches feel they are being unfairly targeted because a few made some bad choices.  We are working hard to show we are part of the solution and not part of the problem," Jacobs said.
King and Jacobs both believe spring teams have made a strong commitment to mask-wearing and staying healthy in order to be able to compete this season.
"The vast majority of spring student-athletes didn't travel home for the long weekend," King said. "Spring student-athletes will continue to test three times a week for the remainder of April."
As for other, non-traditional season teams, they have also been returning with excellent results through their consistent testing, according to King.
"The Athletic Department as well as Student Life is monitoring compliance," King said.