Visual arts seniors' "Unintentional Feedback" exhibition to show in local museum throughout April
Starting the first week of April, Roger Williams University's visual arts seniors will be hard at work installing their artwork for an in-person and virtual exhibition titled "Unintentional Feedback" at the Bristol Art Museum. The event will last until April 30 and display a variety of mixed media including painting, printmaking, digital photography, sculpture and video. The exhibition is the final component of the visual arts senior studio course which focuses heavily on creating works that take risks and are important to students.
This installation will also be the first time that students will see their classmates' work. With COVID-19, most of the in-person class time was spent going over the hanging process amongst other learning objectives, so many students completed their artwork on their own time.
With the chance to place the work in an actual gallery, students are excited to see their fellow classmates' projects and share them with friends, family and the Bristol community.
"I'm looking forward to having people outside of my friends see my art. This is not something I've experienced before, so having the opportunity to have other people see it is really cool," said senior Kaitlyn Minichiello.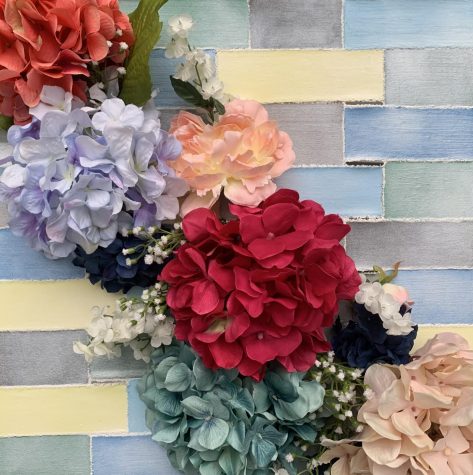 Throughout the senior studio, Professor of Art Anne Tait has worked with students to discuss what they wanted to accomplish in the class. Many individuals came into the course with proposals of work they did in the past and wanted to continue exploring. Some of the topics ranged from body positivity to experimenting with color and lighting.
Since most students worked outside the classroom, many found creative places in homes and residence halls to make art. Sarah Herrmann and Olivia Estner set their studio space in their bedrooms.
"I tend to work messy and always have magazines and books around. It's easier to have the mess in one spot instead of carrying it all around," Herrmann said.
Estner described how her setup allowed her to work on her own time. Taking breaks and getting back into her pieces made her room the preferred spot for art-making.
The senior studio has three students who are working from Pennsylvania, Massachusetts and Greece, so this year's exhibition will look a bit different. While students closer to the school may be able to drive their pieces down for the show, Sophia Pipa, an international student who lives in Athens, will have a video projection of her work.
"It [has] definitely been a challenge, but at the same time exciting because I wanted to show culture through my work. It's easy to show culture virtually," Pipa said.
Pipa's work focuses on showing Athens and its colors and gives her audience a peek into Greek culture. Another one of her paintings focuses on the feminine body image and beauty.
From April 6 to 9, students will install pieces and work together to discuss where certain pieces should be placed. Being able to showcase their work during the pandemic is extremely meaningful to them.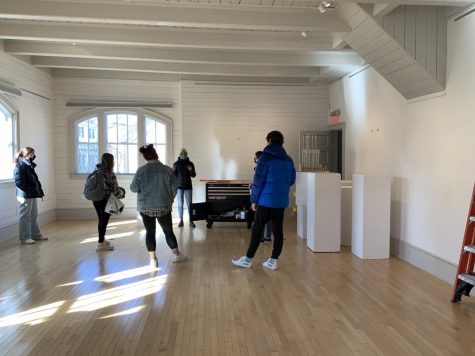 "It's nice that we get to do this. I'm appreciative of Anne and everyone. It means a lot to us as seniors to do something that seems normal," Herrmann said.
"I would like to acknowledge that I wouldn't have made the progress I have made without the support and insight of all of my RWU visual arts professors," said senior Alexandra Lindell.
Beginning April 10, "Unintentional Feedback" will be open to the public Friday through Sunday from 1 to 4 p.m. until its closing date on April 30. An artist reception will be held on April 17 at 6 p.m. For anyone interested in a virtual showing, please visit ww.bristolartmuseum.org.