Women who paved the way: Amrita Pritam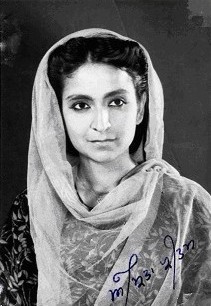 In light of Women's History Month, The Hawks' Herald is featuring important women from throughout history. The fourth week of March highlights women who have paved the way in literature.
Amrita Pritam was born on August 31, 1919 in modern-day Pakistan. Her family considered themselves Sikh and Amrita followed the religion until she was 11 years old when her mother passed away. After her mother's death, Pritam began writing and found solace in the activity after losing faith in God. She was married at 16 years old during an arranged marriage. Her marriage was full of hardships and she was very unhappy until she left her husband in 1960.
By the age of 17, she was a published author after the release of her poem collection "Amrit Lehran." She then published six more poem collections between 1936 and 1943.
Pritam became part of the Progressive Writers' Movement, which was a group of authors who were left-leaning and anti-imperialist. Pritam published multiple pieces criticizing the government and worked for multiple charities during this time. Her life changed in 1947 with the partition of British India when she had to move to New Delhi.
She was part of the mass migration movement that has been labeled one of the most violent mass migrations in history after more than a million Muslim, Hindu and Sikh lives were lost. This inspired her most favorite poem, "Ajj akhaan Waris Shah nu." After 1960, Pritam's work focused more on feminism and her pieces began getting translated into several languages. Toward the end of her career, she began focusing more on dreams and spiritual themes.
After finding love with the famous artist Imroz, the two began working on the literary magazine "Nagmani," with Amrita working as the editor. They worked on the magazine for 33 years. Amrita Pritam spent six decades writing and had 28 novels, 18 anthologies, five short stories and 16 miscellaneous collections published.
She passed away on October 31, 2005 in New Delhi from an illness. She changed the literary world with her work which depicted her life and the real world. She will always be remembered as the first prominent female Punjabi literary figure and one of the most important voices in female Punjabi literature.