Kaffeology Café is Portsmouth's newest hidden gem
College students are always on the hunt for good food and drink. Whether it is trying a new restaurant or ordering from a beloved eatery, it is safe to say that wherever college kids are eating, the food is bound to be good. That being said, Kaffeology Café, a new local coffee and pastry shop, is gaining popularity across the bridge in Portsmouth. Serving an abundance of breakfast, lunch, dessert and drink options, this stylish coffee shop is the perfect place to take friends or to go for a date.
Originally established in 2018 on Thames Street in Newport, this business opened its second storefront on 8 Russo Rd. in Portsmouth at the end of February. Not only was the business voted Best of Rhode Island by Rhode Island Monthly, but Kaffeology Café has been featured in The Boston Globe, The Rhode Show and HGTV+. Specializing in artisan desserts, gourmet food pairings and unbelievably crazy milkshakes, Kaffeology Café takes classic meal favorites and spruces them up with food combinations that bring a whole new experience to your taste buds.
The café produces an assortment of breakfast and lunch options, including a selection of gluten free and vegan dishes. Early risers should try the menu's Hangover Cure consisting of soft scrambled eggs, bacon, ham, tomato, cheddar, spinach, sriracha mayo and brioche. Kaffeology Café's Newporter breakfast is another tasty meal of smoked salmon, fried egg, chive cheese spread, dill, capers, pickled red onions and arugula on an everything bagel. If you would rather have a pick-me-up drink in the morning than a meal, the marble house chai, lavender macchiato and white mocha are the ways to go.
For individuals who like to start their weekends after 12 p.m., Kaffeology Café's lunch menu consists of the croque monsieur, pressed pavo, capri wrap and additional entrees that will not disappoint. The meals are filling but do not leave you feeling overstuffed. Lunch orders begin after 11 a.m., so be sure to stop by from that point onward if you are looking for a midday meal.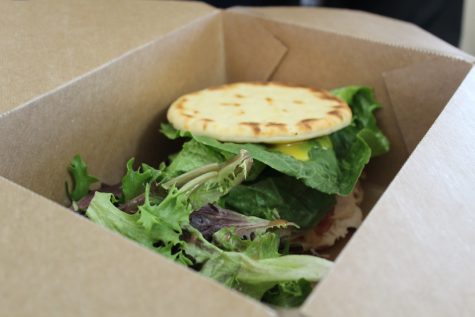 Along with the delicious meal options, it's hard to say no to Kaffeology Café's outrageous milkshakes. Dessert lovers will never rave about another dessert after experiencing these shakes. Among the extensive list include the Ultimate Salt Bae, a vanilla and salted pretzel milkshake with Twix, pretzels, brownie, caramel sauce and whipped cream. If you would like an extra dessert with your shake, try the Birthday Cake Shake, a cake batter milkshake with vanilla frosting, festive sprinkles and whipped cream, accompanied by a slice of cake. Nothing can top that!
Whether you are looking for a cute eatery to go with your besties or a creative shop to visit for a date, Kaffeology Café is worth checking out. With an abundance of delectable food and drinks, it will be hard to resist all that the menu has to offer. While meals can get a little pricey, you are receiving quality food that outweighs the expense.
To view Kaffeology Café's menu as well as online ordering options, please visit their website: kaffeologycafe.com.