Women who paved the way: Maya Angelou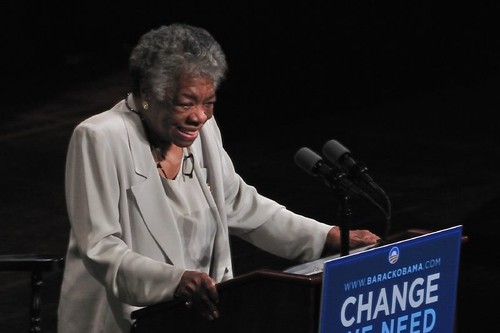 In light of Women's History Month, The Hawks' Herald is featuring important women from throughout history. The fourth week of March highlights women who have paved the way in literature.
Maya Angelou was born on April 4, 1928 in Missouri. Growing up, she experienced racial discrimination first-hand and was abused by her mother's boyfriend at the age of seven. Her uncle killed her mother's boyfriend and Angelou was left traumatized by the events, spending six years without speaking.
Before World War II began, Angelou went to live with her mother in California where she attended high school and received a scholarship to study dance and acting at the California Labor School. She applied for the Women's Army Corps but was turned away due to her involvement with the California Labor School.
When she was only 15 years old, she was determined to get a job. She began applying to be a streetcar conductor but was constantly turned away because she was Black. However, she continued to apply. Three weeks after trying to get the conductor job, it was finally given to her but she had to write she was 19 years old since she was under the legal working age.
She became the first Black woman to be a streetcar conductor in San Francisco, but she did not stay long. She returned to school after a semester of working and became pregnant during her last year of high school. She gave birth to her son shortly after her graduation. By the mid-1950s, Angelou found success as a performer and played parts in a few productions.
She served as the northern coordinator for the Southern Christian Leadership Conference, an organization started by Martin Luther King Jr. Around this time, Angelou wrote her autobiography "I Know Why the Caged Bird Sings," which was published in 1969 and nominated for the National Book Award. For most of the 1960s, she spent time abroad in Egypt and Ghana and worked as an editor and freelance writer.
Throughout her career, Maya Angelou explored several aspects of the arts and published 36 books. She won Grammy Awards in 1993, 1996 and 2003 for her spoken word poetry albums. Her 1971 collection of poems was nominated for a Pulitzer Prize and she was nominated for a Tony Award twice for her performances in "Look Away" (1973) and "Roots" (1977).
She also became the first Black American woman to have a screenplay turned into a film titled "Georgia, Georgia." Maya Angelou passed away on May 28, 2014. Her death was mourned around the world. She left an everlasting impact in literature as a result of her works.