Self-taught student artist creates Instagram account for digital art commissions
Sophomore Cyrus Gossett recently took his artistic talents to the next level by creating an Instagram account that accepts art commissions. His account @king._.cys includes examples of his work along with commission prices from $5 to $35. Gossett's work ranges from humans and animals to light NSFW and blood/gore. Individuals who are interested in his services can direct message his art account.
Gossett's journey as a mostly self-taught artist began in sixth grade. Like many kids growing up, Gossett had art class in school but he never received any professional training. When his sixth-grade art teacher brought in her 19-year-old daughter to draw for the class, Gossett took interest and knew he wanted to do the same. Using art books to teach him how to draw, Gossett drew traditionally until several years ago when he acquired a tiny tablet to do digital work on. The tablet did not have a screen and hooked up to his laptop where he would have to look at the computer screen while drawing on the tablet. To make the digital art easier, Gossett would hand draw an image, upload it to the computer and color it digitally.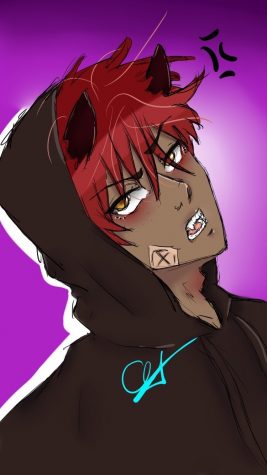 For his high school graduation, Gossett received a Wacom Cintiq 16 drawing tablet which had a screen that Gossett could draw directly onto. Using Krita, a graphics editor designed for digital painting, Gossett continued drawing his favorite things: characters and people.
"Being able to make characters and put them out in the world is my favorite part because I can express parts of myself in these characters," Gossett said.
Having people fall in love with the characters that come from his mind is an important part of Gossett's art making. Part of sharing his work came with deciding to take commissions, which was a big step for Gossett.
"Commissions were very daunting to me because you had to be a 'good artist.' I told myself I'm going to get to this point where I'm good enough for myself and then do it," Gossett said. "But then one day I said screw it. I'm never going to stop growing as an artist and might as well put myself out there."
Gossett's biggest influencer is Snailords, a popular webtoon artist who posts animated comic series online. A huge fan of Snailords and his digital art, Gossett's dream job consists of becoming a comic book artist.
Getting started as an artist can be difficult and people easily put themselves down for not being "good" from the beginning. The important thing is to stay driven and keep practicing — especially if you're having fun.
"Don't let your experience now determine what you'll be able to do… As long as you push through it, you can make some beautiful stuff," Gossett said.
To view Gossett's artwork and find out more about his commissions, search @king._.cys on Instagram.