Women who paved the way: Katie Sowers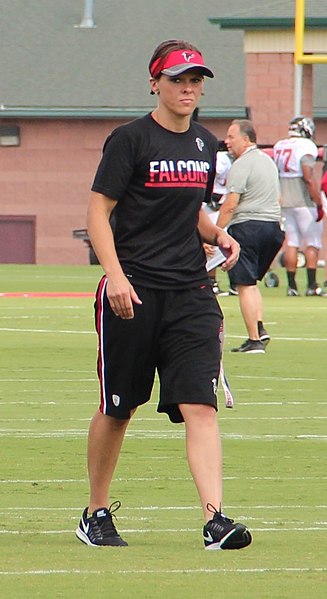 In light of Women's History Month, The Hawks' Herald is featuring important women from throughout history. The third week of March highlights women who have paved the way in sports.
Katie Sowers was born on Aug. 7, 1986 in Kansas. When she was eight years old, she began playing football. She attended Hesston College, Goshen College and the University of Central Missouri, where she graduated with a master's degree in kinesiology.
While finishing her studies at Goshen College, she was denied a coaching position for an amateur basketball team due to her sexual orientation. This denial fueled her determination to succeed.
She began playing for the Women's Football Alliance while studying at Goshen College. She played for the West Michigan Mayhem as well as the Kansas City Titans. While playing for the Titans, Sowers became a member of the United States women's national American football team.
Her team won the 2013 IFAF Women's World Championship. She continued playing as a quarterback and defensive back until 2016 when she suffered a hip injury and retired after eight years. In the same year, Sowers began working as a wide receiver coaching intern with the Atlanta Falcons.
In 2017, she left Atlanta to work as a seasonal intern for the San Francisco 49ers as part of the Bill Walsh Diversity Coaching Fellowship. She soon became a full-time assistant offensive assistant. That year, the 49ers made it to the Super Bowl and Sowers made history as the first woman and first openly gay coach in a Super Bowl.
She left the 49ers after the 2020 season. Sowers is only the second full-time female coach in the history of the NFL and she hopes her work can help promote inclusivity within the organization.