Women who paved the way: Victoria Woodhull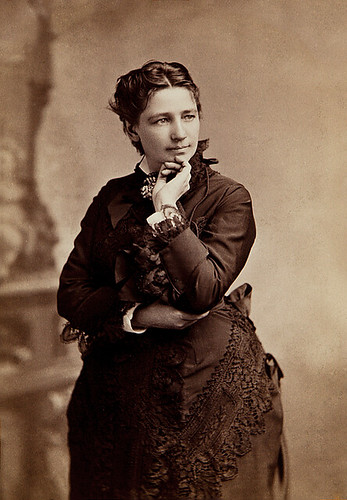 In light of Women's History Month, The Hawks' Herald is featuring important women from throughout history. The second week of March highlights women who have paved the way in politics.
Victoria Woodhull was born on September 23, 1838 in Ohio. She was the seventh of ten children. As a child, she was unable to fully attend school. She lived in poverty and was abused and exploited by her father. In order to financially help her family, she began working as a fortune teller after her father claimed she was a clairvoyant. When she was 15, she eloped with Canning Woodhull so she could escape her father's abuse.
Canning was a medicine salesman and self-proclaimed doctor. He was also a womanizer and alcoholic. This left Victoria needing to work in order to support the family. They had two children — one had a disability and one almost bled to death during delivery. In 1860, the family moved to New York City where Victoria and her sister Tennesse Claflin set up a psychic practice.
The two women were constantly uprooting their families as they moved from city to city in order to get away from complaints and legal issues. In 1864, Victoria divorced Canning after he became distant from the family and only came home to get money. At this time, women were looked down upon if they were divorced. Victoria Woodhull was an advocate for free love, meaning anyone can stay in a relationship for as long as they please with no repercussions.
She found love with Colonel James Harvey Blood and they were allegedly married in 1866. In 1868, Woodhull and Blood moved to New York City and Woodhull opened a salon where intelligent radicals would meet to converse. Woodhull soon became known as a gifted conversationalist. She became increasingly interested in advocating for women's rights and suffrage.
Woodhull and her sister became spiritual advisors to railroad magnate, Cornelius Vanderbilt. This led to Vanderbilt financially supporting the duo's activities with the stock market and eventually they opened their own brokerage house in 1870. This was the first brokerage house owned by women and they made a fortune from the New York Stock Exchange.
Using the money made from the stock exchange, Victoria and Tennessee started a newspaper, Woodhull and Claflin's Weekly which published from 1870 to 1876 and mostly focused on women's issues and controversial topics. This was the first newspaper to be owned and operated by a woman. In 1871, Woodhull spoke to the House Judiciary Committee on behalf of women's suffrage.
She believed women already had the right to vote from the 14th and 15th amendments and they just weren't using it. In 1871, Woodhull announced her candidacy for president and was nominated by the Equal Rights Party who nominated Frederick Douglas as vice president, a nomination he never acknowledged.
Her opinions and fierce advocacy for free love were heavily criticized. In response to being cast as a villain, she published an article detailing the affair between a parishioner and a reverend. U.S. Marshals then arrested Woodhull, Blood and Claflin for publishing an obscene newspaper.
They sat in jail for a month causing Woodhull to completely miss election day. Six months later, the trio was acquitted on a technicality. In 1876, Woodhull and Blood divorced and the newspaper ended publication. Woodhull continued to lecture on issues but started spending more time lecturing about responsibility and sexuality within a marriage.
In 1877, Victoria and Tennessee were bankrupt and went to England to begin a new life. On October 31, 1883, Victoria married John Biddulph Martin, a wealthy banker who listened to one of her lectures.
She began going by the name Victoria Woodhull Martin and with that name began publishing a magazine called The Humanitarian, which she published from 1892 to 1901. In 1901, her husband passed away and she ended publication.
After his death, Woodhull retired to the countryside where she remained until she passed away on June 9, 1927. Woodhull was the first woman to run for president even though it was 50 years before women even got the right to vote. She was brash and controversial but remained loyal to her causes. She broke down several barriers in her life and was truly a trailblazer for women in politics, media and the stock market.