Women who paved the way: Sally Ride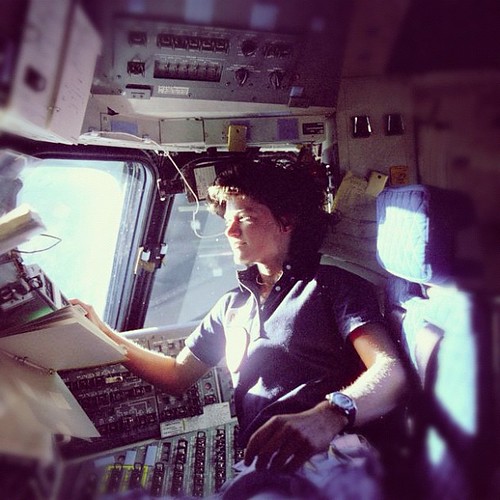 In light of Women's History Month, The Hawks' Herald is featuring important women from throughout history. The first week of March highlights women who have paved the way in science.
Sally Ride was born on May 26, 1951 in California. She had dreams of becoming a professional tennis player as a child and even got a scholarship to attend Westlake School for Girls in Los Angeles after starting tennis at the age of 10. As a teenager, Ride ranked in the top 20 nationally for the junior tennis court.
She attended Swarthmore College in Pennsylvania but dropped out her sophomore year so she could pursue a career in tennis. After three months, she decided to attend college, this time at Stanford University where she graduated with a degree in physics and a degree in English in 1973. She then stayed at Stanford to receive her Master of Science degree in 1975 and her doctorate in 1978.
In 1977, Ride replied to an ad she saw in the newspaper placed by NASA that was in search of mission specialists on future flights. She was one of five women in her class at NASA. On June 18, 1983, Sally Ride became the first woman to go to space and the youngest American to go to space. She was the flight engineer for the Challenger STS-7, a space shuttle whose mission lasted one week. In space, Ride launched two communications satellites, conducted experiments and operated the shuttle's mechanical arm.
Before going to space, she was interviewed several times and a lot of the questions focused on her being a woman. She was asked questions related to her ability to reproduce after the mission and what makeup she would bring. On October 5, 1984, Ride would return to space for an eight-day mission on the STS-41G. During this mission, she was responsible for detailed observations of Earth. In 1986, she investigated the devastating Challenger accident.
She then became the special assistant to the NASA administrator for long-range and strategic planning. After visiting space, Ride taught physics at the University of California in San Diego where she also worked as a physicist. She had a position on the President's Committee of Advisors on Science and Technology and served on the advisory board of the National Women's History Museum. She also was the Director of the California Space Science Institute.
On July 23, 2012, Ride lost her battle to pancreatic cancer. After her death, Tam O'Shaughnessy, a childhood friend, revealed information about their 27-year relationship that started as a friendship. In 2013, former President Barack Obama posthumously awarded Sally Ride the Presidential Medal of Freedom which O'Shaughnessy accepted on her behalf. O'Shaughnessy's acceptance of Ride's awards made Ride the first recognized openly gay astronaut.