BIPOC open mic night brings students and community members together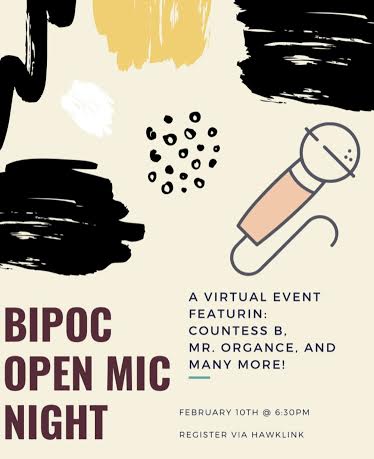 In celebration of Black History Month, Roger Williams University's Intercultural Center is running a month-long event series for the entirety of February. In particular, Black Excellence Week ran last week from Feb. 8 to Feb. 12., with an event taking place each night via Zoom.
On Feb. 10, there was a BIPOC Open Mic Night at 6:30 p.m. It became a place for RWU's Black, Indigenous, and students of color (BIPOC) to have their voices heard through the power of poetry. The Intercultural Center collaborated with Providence-based Cafe S.O.U.L. to bring in local BIPOC artists to share their voices as well, including Cafe S.O.U.L.'s founder Countess B.
The night consisted of different poets reading their pieces, both local artists and students alike. It started with Countess B reading a few of her own pieces, including her poem "It's All Gucci," as well as her own rendition of Maya Angelou's "Phenomenal Woman." It continued on to another professional and competing poet, Queen G, who read an original poem as well. Readers can learn more about her on her website https://www.queengcreative.com/. Both of these poets are RWU alumni.
Another local artist who performed was Mr. Orange. Before he read his pieces, he played an original musical track for the audience that he collaborated with Countess B on, who was the vocalist. The two also teamed up again later in the night to read an original poem titled "Apologize" together, which was written as if they were having a conversation with each other and apologizing for someone else's actions.
Readers can learn more about Mr. Orange on his website https://www.mrorangelive.com/.
The performers all encouraged audience members to perform, saying there would be no judgment, whether from one's self or from others.
Many poems that were read touched upon relevant issues that impact the world today, including racism, colorism and sexism, as well as police brutality and the victims who lost their lives to it. Every poem held a lot of meaning and every line had a strong impact on the audience. Although everything was online, the words were still as moving as they would have been in person.