Athletic Trainer Highlight: Kristina Keddie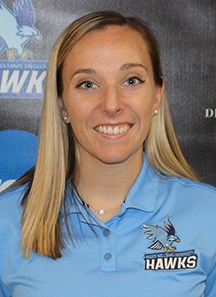 Athletic trainer Kristina Keddie has been on the staff at Roger Williams University for more than two years.
She received her bachelor's degree in Athletic Training at Salem State University in Salem, Massachusetts. Prior to working at RWU, she was an athletic trainer at the high school level for six years. Keddie said she was ready for a change.
"I wanted the experience and the challenge in working with collegiate athletes at the division three level and when the opportunity came about, I did not want to miss out," Keddie said.
For her, the job is rewarding because she is able to help athletes recover from an injury or illness and return to their sport.
In one year, Keddie is in charge of a total of six athletic teams, handling two per season. However, with COVID-19 at a peak and athletics cautiously practicing in irregular seasons, she has spent the fall semester juggling all of her teams at once. This caused her to limit times of availability for each team.
"With other restrictions in place like limited capacity and treating by appointments, I had to be firm with time management and this certainly posed a challenge at times," Keddie said.
"I enjoy this skill level, the competitiveness and this population. Outside of athletics, it is exciting to see student athletes' work not only toward their athletic goals but their academic goals, and ultimately their career goals."
To balance many different teams and athletes, she refers back to her professors and instructors emphasizing lessons on time management in order to balance a full workload.
"At RWU, Cory, Jake [the other certified athletic trainers on campus] and I work as a team and that helps," Keddie said.
Keddie's inspiration to be an athletic trainer came during her high school years as she watched football games and saw the work of the school's female athletic trainer.
"I thought it was really motivating to see a female athletic trainer helping the team on the sidelines with injuries, taping and concussion evaluations," Keddie said. "I knew I wanted to work with athletes and this really sparked my interest into becoming an athletic trainer."
She stepped into that role after college at the high school she worked at and now at RWU. Her job aspirations fully include athletic training, but she hopes to move toward the fitness field side of training. Keddie said she has always enjoyed the fitness aspect, such as training and preparation, which is why she is aiming to receive her Strength and Conditioning certification.
"One piece of advice I would pass on to someone else would be to get as much experience as they can working with different populations and in different fields," Keddie said. "I have worked in physical therapy clinics, outpatient surgery, industrial settings, at high schools and at the collegiate level. I can say that all my experiences have helped grow my skill set as an athletic trainer."