How to use special effects makeup for your 2020 Halloween costume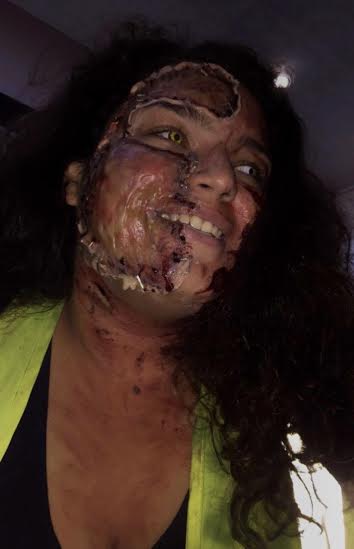 Looking to step up your Halloween game this Oct. 31? Sure, we're still practicing social distancing and you can't show off your creative costume to everyone, but that doesn't mean you can't dress up with your friends and still have a good time. If you're looking to keep the cost low on your costume this year, try working with special effects makeup (SFX) that will give you a spooky glow and scare away all campus ghosts.
SFX makeup is cosmetics used to create special effects, usually for the camera or live-action theater. People also enjoy using it for Halloween makeup to create blood, wounds and other creepy things that make people jump. Being able to do a good job with SFX makeup can be difficult and take a lot of time.  However, if you're patient and learn how to use the tools properly, you may be the next winner in a Halloween contest.
Angelique Rivera, a junior at RWU, has been using SFX makeup since her sophomore year of high school. She became interested in it after attending haunted houses and fright fests as a kid. In talking about her experience with SFX makeup, she mentioned the importance of easing your way into it.
"Practice beforehand and watch tutorials to find and learn techniques to help," Rivera said.
As a beginner, using scar wax to create small scars, warts, wounds and different nose shapes will be the easiest options. Individuals who are more experienced with SFX makeup may want to advance their techniques by using the makeup for things that involve covering the mouth, hair and eyes.
When shopping for SFX makeup, Ben Nye products are the best materials to use. This professional brand was founded by a legendary Hollywood makeup artist who created quality color cosmetics so people off the screen could have fun using makeup to sculpt themselves into someone or something else. Ben Nye makeup can be ordered online, so be sure to order soon to get it for Halloween. In addition to makeup, sculpting tools, sponges and foundation that matches your skin color are a must. These products can be picked up at CVS, Target, Walmart or any other store selling cosmetics.
If you're having trouble coming up with an idea on what to do with your SFX makeup, check out some tutorial videos that will not only help you come up with cool ideas but allow you to practice your skills. You can also browse through Pinterest for inspiration. Happy Halloween!