Bringing a new level to Latino communities at RWU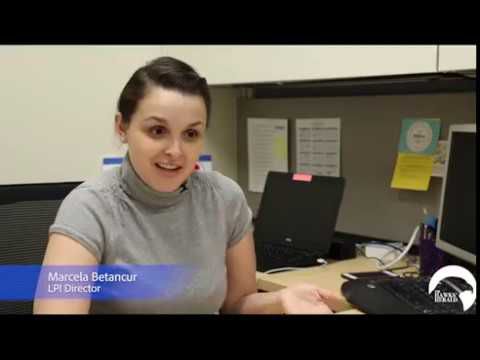 Marcela Betancur hopes to bring more engagement to the Latino communities at RWU by using her experiences as a first-generation immigrant who came to the United States at the age of 12.
She was hired by the university's Latino Policy Institute as their new director in January. 
The LPI, an organization that has resided at the university since 2005, generates unbiased data on Latinos in the state of Rhode Island. The RWU website says that the LPI "stimulates public policy discussions and enhances the public's understanding of the Rhode Island Latino experience." The program works to understand, document and engage with Latino communities through research reports, policies and studies around how to better the lives of Latinos in the community.
"I can be part of the growing representation of Latinos in our state," Betancur said when asked why she enjoys her position at the LPI. The Latino community makes up 15 percent of the population, according to Betancur and the Pew Research Center.
She thinks it is an important opportunity for the state to not only talk about the opportunities and challenges the community already faces, but also how it has changed and how citizens can continue to evolve in the next few decades.
She attended Central Falls High School and Rhode Island College where she majored in political science and political administration.
"This was the first time I was around people that didn't look like me and who had different cultures and identities," Betancur said. "It was an eye-opening experience and it led to understand how I can impact our community."
After graduating college, she worked in affordable housing for five years in project management. She later went on to work for the American Civil Liberties Union in Rhode Island as a lobbyist at the state house where she focused much of her time on research and policy regarding what the state could do for different communities.
"It taught me a lot more about my community and how people of color and low-income individuals are targeted many times by bad policy without ever taking them into consideration," Betancur said.
"One of the things I really want to do during my time here is to connect the different aspects and parts of the university such as the students, faculty and staff into the work that the [LPI] has done and can do," she said.
Betancur talked about what the term "monolithic" means in terms of Latino communities.
"Sometimes when we think of Latinos, we think that we all speak Spanish, our 'legal' status is all the same, everyone has the same religion, everyone eats the same things — and that's very untrue," Betancur said.
There are various cultures in Latino communities. She noted that, for example, they eat many different foods from each other.
"I joke a lot about this but I had never in my life had a taco until l came to this country," Betancur said.
She hopes to be able to work with students and faculty who do not identify as Latino, but who want to learn and understand more about the community. She hopes to collaborate with the Latin American Association and the Community Partnership Center at RWU.
Her main message was that not all Latinos are the same.
"If you have met one, you haven't met all of us."