Housing experiences open positions this semester
Community Directors from three residence halls have departed the university
The Roger Williams University Housing Department has hired a new Community Director (CD) for the Stonewall Residential Community who will start Nov. 1, according to Interim Director of Residence Life and Housing Katie Ribeiro.
The name of the new Stonewall CD could not be revealed during a Monday, Oct. 18 interview with Ribeiro because housing is "still waiting on a background check and all the HR formalities."
The former Stonewall CD Caroline Tyler, formerly Caroline Fannoush, received an internal promotion to become the Area Coordinator that will oversee the new Stonewall CD as well as be the Willow Residential Community CD according to Ribeiro.
Stonewall is not the only residential community that had staff depart.
Bayside CD Chris Higgins and Assistant Director for Residential Education/Almeida CD Corey Brown also left.
Housing is working to fill the Bayside position and "an offer is tentatively out and tentatively accepted," said Ribeiro. HR formalities still need to happen for that position as well.
The Assistant Director for Residential Education/Almeida CD position is being posted, but it is being "posted differently" according to Ribeiro.
"We decided the Assistant Director/Community Director position wasn't necessarily something that was the best option for the department," said Ribeiro. "We're finding that our Community Directors will come in, they'll work with us for three years or so and then they're ready for something else, that next step, that next promotion, and everyone that's left us has left for a promotion."
Ribeiro said Housing staff departing for promotions like Higgins and Brown is "a positive." She also said, "It shows that we're developing our staff and preparing them for those next steps."
"What became glaringly obvious to us is that we don't have those next steps within the department," said Ribeiro. "Instead of posting another Assistant Director, which is typically a longer-term stay, about five to six years, we decided to split that into two Area Coordinator positions."
"Area Coordinators will manage an area, so they'll have their own building that they're Community Director of, and then they'll supervise one other Community Director and that CD's building," said Ribeiro. "That's a promotion that will allow us to retain good staff longer and give them an opportunity for more responsibility and something different with the promotion providing supervision experience to further get them ready for that next step."
Caroline Tyler holds one of the Area Coordinator positions as Willow CD supervising the Stonewall CD and the other Area Coordinator position is posted and that will be for the Almeida CD position Brown left.
Ribeiro said the timing of the staff departures was tough.
"Typically, that [departing for promotions] happens in July," said Ribeiro. "I think some institutions were dragging their feet because they didn't know if positions would be frozen or allowed to post. I think COVID kind of dragged everyone's search process out a little longer than it would be in a typical year."
Ribeiro herself is Interim Director of Residence Life and Housing and she did not know if she would stay in her position after this year.
"I live really far," said Ribeiro. "I commute two hours each way so I don't see that being sustainable as a long-term option, but I think we'll see what happens. We're in a changing environment and we'll kind of see going from there."
In regard to the staff departures and position changes, Ribeiro said, "I think we're doing the best we can here with the staff that we have and I think our students are doing well and that's what's important."
Leave a Comment
About the Contributor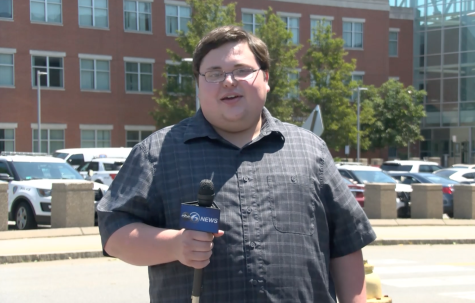 Jimmy Sadowski, News Editor



Jimmy Sadowski is a journalist with experience in print, multimedia, and broadcast journalism. Sadowski's specialty is news, but can also provide...