Boost every moment with versatile peanut butter
(Family Features) Whether you're a fitness junkie, busy parent, sleep-deprived student or diehard sweet tooth, peanut butter is an ingredient that sticks for all of life's moments. With a healthy boost of protein and energy, peanut butter is perfect as an on-the-go snack, fuel for a workout, a reliable family meal or a decadent dessert.
There's no shortage of delicious ways to pack peanut butter into diverse dishes throughout the day:
Add peanut butter to your favorite fruit smoothie for a nutty new flavor.Encourage children to experiment with the essential spread and go beyond PB and J by replacing fruit for the jelly or stirring peanut butter or peanut butter powder into their yogurt.A simple peanut butter and honey sandwich makes a great on-the-go snack you can throw in your gym bag or tuck away in a drawer at work.Add peanut butter to a sauce or salad dressing for an extra zip of flavor and protein.
Find more creative ways to enjoy peanut butter with these winning recipes from Southern Peanut Growers' annual PB My Way recipe contest, and explore additional dishes that celebrate this versatile ingredient at peanutbutterlovers.com.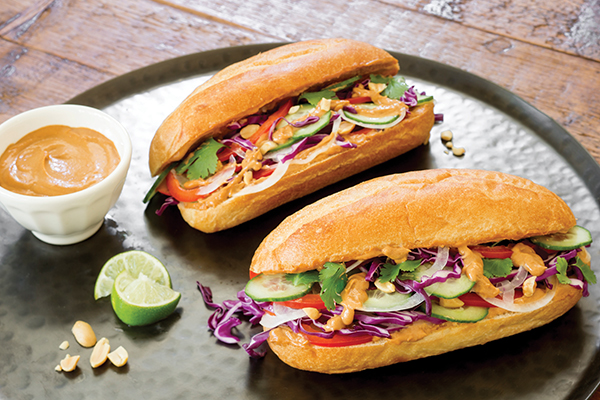 Veggie Sammies with Peanut Butter Satay Sauce
Recipe courtesy of Ben M., San Francisco, CaliforniaServes: 2
4          tablespoons creamy peanut butter3          tablespoons lime juice2          tablespoons water4          teaspoons hoisin sauce2          teaspoons soy sauce2          teaspoons sriracha2          French baguette rolls (6 inches each)1/2       cup sliced cucumber1/2       cup white onion1/2       cup red bell pepper1/2       cup purple cabbage1/2       cup fresh cilantroIn small bowl, combine peanut butter, lime juice, water, hoisin sauce, soy sauce and sriracha. Mix well.Spread sauce on both sides of bread then layer with cucumber, onion and bell pepper. Top with cabbage and cilantro leaves.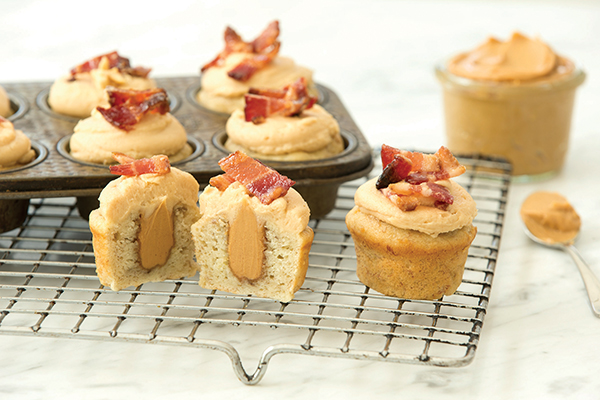 Graceland Mini Cupcakes
Recipe courtesy of Linda D., Coconut Creek, FloridaServes: 36
Cupcakes:
2          cups all-purpose flour2          teaspoons baking powder1/2       teaspoon salt4          ripe bananas1/2       cup light sour cream4          tablespoons unsalted butter, at room temperature2          tablespoons canola oil3/4       cups sugar2          large eggs, at room temperature1          large egg white, at room temperature1          teaspoon vanilla extract
Peanut Butter Filling:
1/4       cup creamy peanut butter
Bacon Topping:
4          slices bacon1/2       cup brown sugar
Frosting:
8          ounces low-fat cream cheese1/2       cup butter1/2       cup creamy peanut butter2          teaspoons vanilla extract3/4       cups confectioners' sugarHeat oven to 350°F. Line cupcake tins with paper liners and lightly spray with cooking spray.To make batter: In medium bowl, combine flour, baking powder and salt. Stir to combine and set aside.In small bowl, mash bananas and add sour cream. Mix well and set aside.Using electric hand mixer, beat butter, oil and sugar until incorporated, about 3-5 minutes. Add eggs, egg white and vanilla. Mix until combined. Slowly add half the dry ingredients and mix until almost incorporated. Add sour cream and banana mixture and gently fold into batter. Add rest of dry ingredients until combined.Spoon batter into lined cupcake pans. Bake 18-20 minutes and let cool.After cooling about 30-45 minutes, use paring knife to cut small circle in middle of top of cupcakes and remove plug, creating a well about halfway down cupcake. Add peanut butter to piping bag and fill each hole. Set aside.In medium bowl, dredge both sides of bacon slices in brown sugar. Place on foil-lined baking sheet; bake 10 minutes. Flip and bake another 6-8 minutes. Remove bacon from oven and place on plate to cool. Once cool, chop bacon and set aside.To make frosting: In large bowl, combine cream cheese, butter, peanut butter and vanilla extract. Mix until combined. Add confectioners' sugar and mix until well-combined.Add frosting to piping bag. Pipe a dollop of frosting onto each cupcake and sprinkle with candied bacon pieces.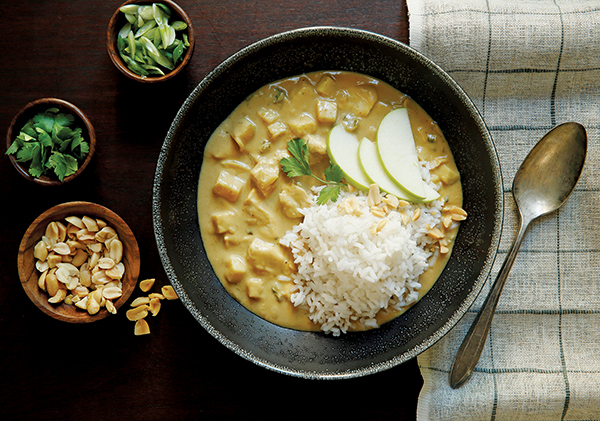 Peanut Apple Chicken Curry
Recipe courtesy of Jess A., Berkeley, CaliforniaServes: 4
Sauce:
1          tablespoon olive oil2          cloves garlic, minced2          teaspoons curry powder1/4       cup scallions, chopped1          cup creamy peanut butter2          teaspoons rice wine vinegar1 3/4    cups apple juice1 3/4    cups coconut milk1/4       cup brown sugar1/4       teaspoon cayenne pepper (optional)
Chicken:
2          tablespoons olive oil1/2       small yellow onion, chopped1 1/2    pounds boneless, skinless chicken breast, cut into 1-inch strips1          medium apple, peeled, cored and choppedsalt, to tastepepper, to tastecooked rice (optional)To make sauce: In medium to large saucepan, heat oil over medium heat. Add garlic, curry powder and scallions. Saute 1 minute.Add peanut butter, vinegar, apple juice, coconut milk, brown sugar and cayenne. Bring to simmer, reduce heat and cook over low heat, stirring frequently, about 10-15 minutes.Meanwhile, in large skillet, heat oil. Add onion and stir fry about 2-3 minutes until onions start to become opaque.Add chicken and apples, and stir until chicken is cooked completely. Add peanut sauce and cook until heated evenly, about 2-5 minutes. Season with salt and pepper, to taste. Serve warm over rice, if desired.